| | | |
| --- | --- | --- |
| They came from outer space--and you can have one! Genuine meteorites are now on sale in the Space Weather Store. | | |
QUIET SUNSPOTS, ACTIVE FILAMENT: None of the sunspots on the Earthside of the sun is actively flaring. Technically, this means solar activity is "low." Nevertheless, a large magnetic filament in the sun's southern hemisphere erupted during the early hours of August 29th: movie. The CME it hurled into space might have an Earth-directed component. Stay tuned for updates. Solar flare alerts: text, voice.
MAJOR FIREBALL EVENT: Bill Cooke of NASA Meteoroid Environment Office reports that a major fireball event occurred over the southeastern USA on August 28th. The explosion was brighter than the Moon and it might have scattered meteorites on the ground. Watch the movie, then read Cooke's full report below: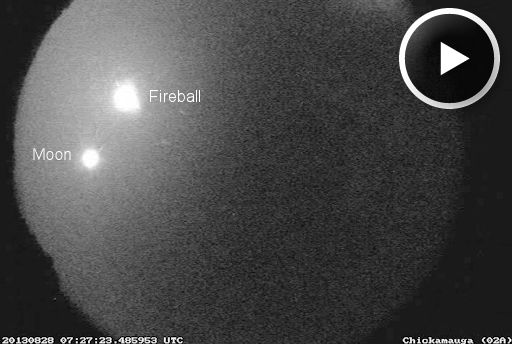 "On August 28 at 07:27 UTC (2:27 AM local time in Alabama), all six NASA all-sky cameras in the southeast picked up a very bright fireball," he says. "Its peak magnitude was approximately -11, or six times brighter than the Last Quarter Moon. This may very well be the brightest event our network has observed in 5 years of operation."
"The cameras were completely saturated, necessitating a manual solution of the fireball's trajectory and orbit," he adds. Initial results indicate that the meteoroid massed 45 kg (roughly 0.3 to 0.4 meters in diameter) and hit the top of Earth's atmosphere traveling 23.7 km/s (53,000 mph).
Cooke is currently examining doppler radar records and other data to determine where the fall zone is located.
SPY SATELLITE SPOTTED: On Wednesday, Aug. 28th, a Delta IV Heavy rocket (the world's largest, according to the United Launch Alliance) blasted off from Vandenberg Air Force Base in California. Its secret payload was classified by the US National Reconnaisance Office. So much for secrets. Amateur sky watchers are already tracking the NROL-65 satellite as it circles Earth. Kevin Fetter video-recorded the spysat last night as it glided silently over his back yard in Brockville, Ontario, Canada: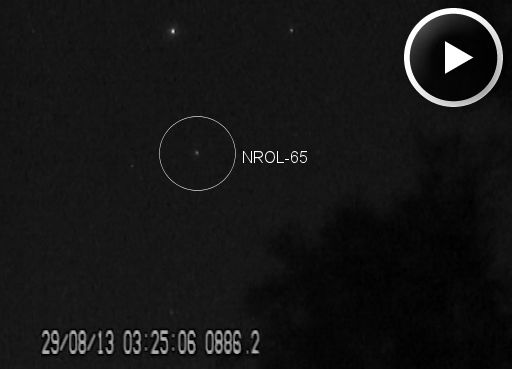 "In the video," says Fetter, "the satellite flew right by kappa Ophiuchus." That star is variable with a magnitude ranging between +4 and +5. Judging from the video, the satellite is about as bright as kappa Oph, say +4.5. This means it is faint but visible to the human eye from dark-sky sites.
No one outside classified circles knows exactly what this satellite does. Speculation is centering on the possibility that it is a KeyHole intelligence satellite of KH-11 lineage. Keyhole satellites are a bit like the Hubble Space Telescope, except pointed at Earth instead of the heavens. NROL-65 could be going up to replace a similar satellite, USA 186 (05042A / 28888), launched from Vendenberg in October 2005.
Would you like to see NROL-65 for yourself? Download this app to turn your smartphone into a spysat tracker. Our Simple Flybys web tool is also tracking NROL-65. If it is looking at you, you might as well look back.
SPACE WEATHER RADIO UPDATE: As a result of indiscriminate "sequester" budget cuts, the USAF Space Surveillance Radar will be shut down at the end of September. Readers have asked what this means for Space Weather Radio. For years we have broadcast Space Surveillance Radar echoes from meteors passing over the facility. Anticipating the shutdown, our radio engineer Stan Nelson is changing frequencies. "I have erected a new 50 MHz 4-element beam antenna for the Digital TV carrier of 54.310 MHz and have it feeding the receiver at SpaceWeatherRadio.com," he explains. The echoes we hear now will be TV signals bouncing off the ionized trails of meteors. "I will be experimenting with the direction and signal strength over the next couple of days, so stay tuned."
Realtime Space Weather Photo Gallery
---
---
Realtime Noctilucent Cloud Photo Gallery
[previous years: 2003, 2004, 2005, 2006, 2007, 2008, 2009, 2011]
---