| | | |
| --- | --- | --- |
| Metallic photos of the sun by renowned photographer Greg Piepol bring together the best of art and science. Buy one or a whole set. They make a stellar gift. | | |
RECORD-SETTING ASTEROID FLYBY: On Feb. 15th an asteroid about half the size of a football field will fly past Earth closer than many man-made satellites. Since regular sky surveys began in the 1990s, astronomers have never seen an object so big come so close to our planet. [full story] [video]
SOLAR ACTIVITY IS SO LOW... With no sunspots actively flaring, solar activity has been low for nearly two weeks. It is so low that the best way to see any change in the blank solar disk is to go to the airport. Clicking on the arrow explains everything: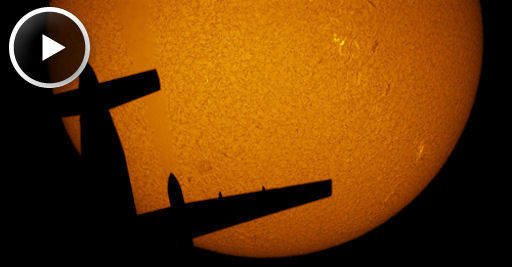 "While gathering data for a mosaic image of the quiet sun, I caught this Dash 8 flying in front of the solar disk," says Ralph Smith of Deeral, Cairns, Australia. He took the picture on the morning of Jan. 29th, and nothing much has happened since.
NOAA forecasters estimate a slim 5% chance of M-class solar flares and no more than a 1% chance of X-flares during the next 24 hours. Solar flare alerts: text, voice.
GREEN COMET LEMMON: 2013 could be the Year of the Comet. Comet Pan-STARRS is set to become a naked eye object in march, followed by possibly-Great Comet ISON in November. Now we must add to that list green Comet Lemmon (C/2012 F6). "Comet Lemmon is putting on a great show for us down in the southern hemisphere," reports John Drummond, who sends this picture from Gisborne, New Zealand: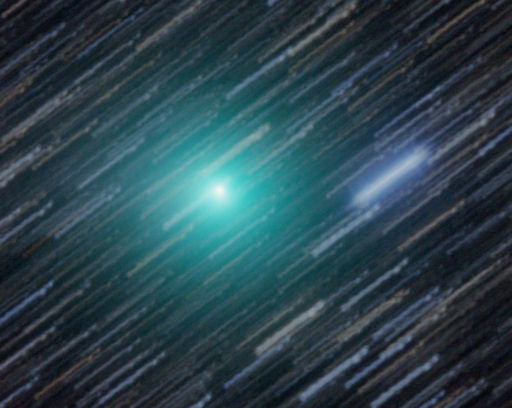 "I took the picture on Jan. 23rd using a 41 cm (16 in) Meade reflector," says Drummond. "It is a stack of twenty 1 minute exposures." That much time was required for a good view of the comet's approximately 7th-magnitude coma ("coma"=cloud of gas surrounding the comet's nucleus).
Lemmon's green color comes from the gases that make up its coma. Jets spewing from the comet's nucleus contain cyanogen (CN: a poisonous gas found in many comets) and diatomic carbon (C2). Both substances glow green when illuminated by sunlight in the near-vacuum of space.
Discovered on March 23rd 2012 by the Mount Lemmon survey in Arizona, Comet Lemmon is on an elliptical orbit with a period of almost 11,000 years. This is its first visit to the inner solar system in a very long time. The comet is brightening as it approaches the sun; light curves suggest that it will reach 2nd or 3rd magnitude, similar to the stars in the Big Dipper, in late March when it approaches the sun at about the same distance as Venus (0.7 AU). Northern hemisphere observers will get their first good look at the comet in early April; until then it is a target exclusively for astronomers in the southern hemisphere.
NORTHERN LIGHTS: A solar wind stream hit Earth's magnetic field on Jan. 26th, sparking auroras around the Arctic Circle. The moon was full at the same time, shining like a floodlight, but the auroras were bright enough to be seen anyway: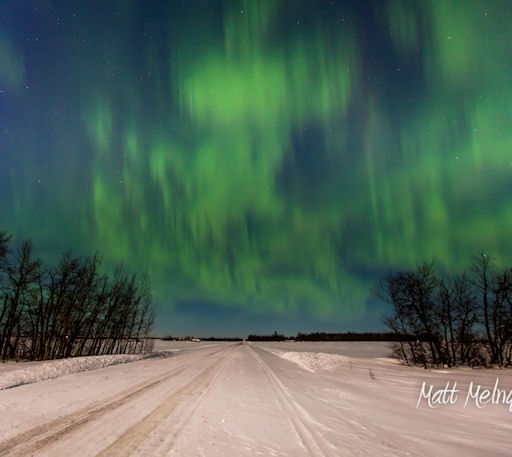 Matt Melnyk took the picture from a spot just outside Edmonton, Alberta. "The Moon was bright but it did not stop the aurora from showing!" he says. "The display started off dim then exploded into a vast array of green and purple."
The chance of more geomagnetic storms tonight has dropped to only 10% as Earth exits the solar wind stream. Solar and geomagnetic activity are low. Aurora alerts: text, voice.
---
Realtime Space Weather Photo Gallery
---
Realtime Noctilucent Cloud Photo Gallery
[previous years: 2003, 2004, 2005, 2006, 2007, 2008, 2009, 2011]