JUST FOUR MORE INCHES... In 1976, NASA's Viking 2 lander dug into the soil of Mars in search of water and came up dry. NASA has just learned that Viking 2 might have succeeded if it had dug only 4 inches deeper. Meteorites hitting the Red Planet in 2008 and 2009 have exposed subsurface deposits of ice in the general area where Viking 2 landed. According to pictures taken by the Mars Reconnaissance Orbiter, the ice is surprisingly close to the surface in easy reach of robotic landers or thirsty human explorers. Get the full story from Science@NASA.
PARABOLIC FLIGHT TO MARS: Today, Sept. 28th, high above the Netherlands, a Cessna Citation II filled with scientists will conduct a "parabolic flight to Mars." The aircraft will never leave Earth's atmosphere, but inside it will feel just like the Red Planet. "Our pilots will execute a series of parabolic maneuvers that precisely simulate Mars-gravity (0.38g)," says Sebastiaan de Vet of the University of Amsterdam. Here is a snapshot of a test flight on Sept. 23rd: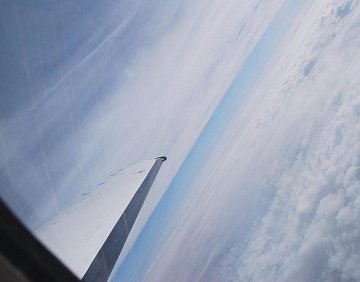 "The purpose of today's flight is to study avalances on Mars," de Vet explains. "The experiment looks like this."
"Avalanches might seem like simple processes, but the way gravity acts on crumbled material to make an avalanche is not fully understood," he says. "By experimenting with avalanches under Martian gravity, scientists hope to reconstruct how various landscapes on Mars might have been formed."
"Insights gained from these experiments (funded by the Netherlands Space Office) are not only valuable for research on Mars, but also for research on Earth. Avalanche behaviour is common in river systems and in steep mountainous areas where rock and snow can damage roads, villages and dams. Understanding the complex mechanisms of avalanches could lead to better forecasts or even prevention."
WEEKEND AURORAS: A solar wind stream buffeted Earth's magnetosphere on Sept. 26th. It was a gentle hit, but enough to spark a bright display of arctic lights. Robert Postma sends this picture from the shores of Lake Myvatn, Iceland: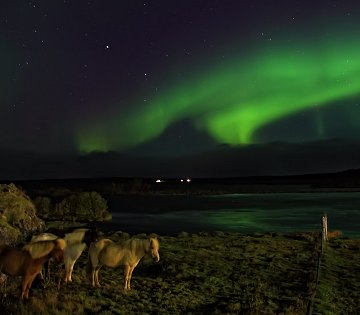 The pony-sized Icelandic horses in the foreground must have been mesmerized. "They stood still for the entire 30 second exposure," says Postma.
The solar wind stream that sparked the display is still flowing around Earth. Arctic observers should remain alert for Northern Lights.
Sept. 2009 Aurora Gallery
[previous Septembers: 2008, 2007, 2006, 2005, 2004, 2002, 2001]
---