| | | |
| --- | --- | --- |
| NEW AND IMPROVED: Turn your iPhone or iPod Touch into a field-tested global satellite tracker. The Satellite Flybys app now works in all countries. | | |
SPROUTING GRASS MOON: According to folklore, tonight's full moon has a special name, the Sprouting Grass Moon, because it shines down on the new grasses of northern spring. Fun: Go outside after dark and look at the ground. Does the grass look green or blue? The answer may surprise you.
PLASMA RAIN: NASA's Solar Dynamics Observatory (SDO) has just observed a massive eruption on the sun. Movies ten times better than HDTV show billions of tons of material blasting into space while debris from the explosion rains around the blast site. Moon-sized fragments of plasma splash brightly when they land back on the sun's surface: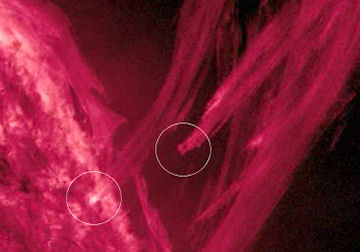 Above: "Plasma rain" photographed by SDO on April 19, 2010
Veteran solar physicists say they've never seen anything quite like it. The fluid detail of SDO's imagery is unprecedented, prompting NASA to dub it their "Hubble for the Sun."
SDO has already solved one mystery of plasma rain: The rain falls with puzzling slowness, seemingly resisting the sun's powerful gravity. What slows the descent? The phenomenon is explained in today's story from Science@NASA.
PLANET WEIKERSHEIM: For several days last week, something unusual happened in the skies of Europe: air traffic came to a halt. Almost every flight was grounded because of the volcano in Iceland. "The sky took on a strange appearance," reports Jens Hackmann of Weikersheim, Germany. "It was totally uninterrupted by contrails! So, I took several pictures using my Canon 5D Mark II and put them together in the form of a 'little planet' panorama."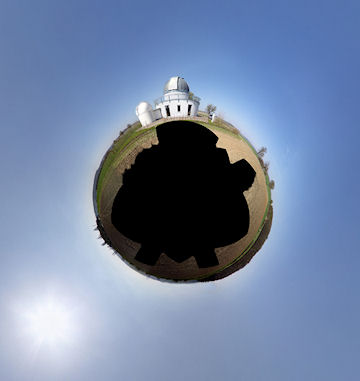 The dome in the image is Hackman's backyard observatory. Planet Weikersheim appears to be hollow, but that's just because "I forgot to take pictures of the ground," explains Hackmann. "But who wants to see my feet?" Indeed.
Star trails also looked great during the flight ban. Click here for vertigo.
---
April Northern Lights Gallery
[previous Aprils: 2009, 2008, 2007, 2006, 2005, 2004, 2003, 2002]