| | | |
| --- | --- | --- |
| Metallic photos of the sun by renowned photographer Greg Piepol bring together the best of art and science. Buy one or a whole set. They make a stellar gift. | | |
COLLISION COURSE? A comet is heading for Mars, and there is a chance that it might hit the Red Planet in October 2014. An impact wouldn't necessarily mean the end of NASA's Mars program, but it would transform the program along with Mars itself. Get the full story and a video from Science@NASA.
FULL MOON AURORAS: A disturbance in the solar wind hit Earth's magnetic field on March 27th, igniting auroras around the poles. Glare from the full moon competed with the Northern Lights, but did not utterly vanquish them. In Salla, Finnland, B.Art Braafhart photographed patches of green above the moonlit landscape: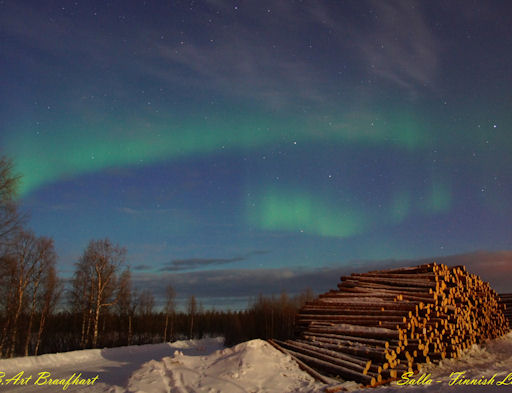 The display appears to have been caused by a corotating interaction region--that is, a shock-like transition zone between slow-speed and high-speed solar wind streams. Also known as "CIRs," corotating interaction regions are a leading cause of auroras during solar minimum.
Solar minimum? 2013 is supposed to be a year of maximum solar activity. Low sunspot counts and muted flares suggest otherwise. Perhaps, as some researchers argue, this is the valley in a double-peaked Solar Max. If that is true, stronger solar activity should return in late-2013/early-2014.
NOAA forecasters estimate a 60% chance of polar geomagnetic storms on March 28th as Earth's magnetic field continues to reverberate from the impact of the CIR. Aurora alerts: text, voice.
DAYLIGHT ALIGNMENT OF PLANETS: Venus, Mars and Uranus are gathering for a remarkable alignment. But don't bother looking for the conjunction; it is happening in the daylight sky within a few degrees of the glaring sun. Using an opaque disk to block the glare, coronagraphs onboard the Solar and Heliospheric Observatory (SOHO) are able to track the planets: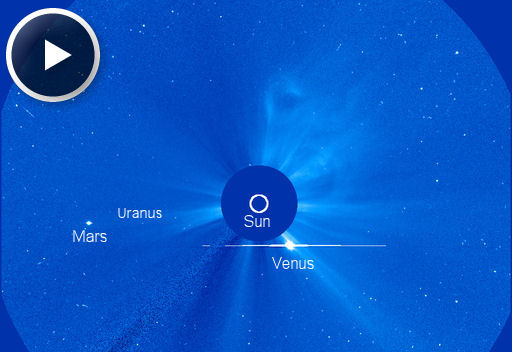 Venus and Uranus will cross paths within 1.5 degrees of the sun on March 27-28. Mars and Venus have their own very close encounter on April 6-7. Mars will be so close to the sun throughout the month of April that it will limit NASA's contact with the Mars rovers and orbiters.
According to a NASA press release, "Mars will be passing almost directly behind the sun [as seen from Earth]. The sun can easily disrupt radio transmissions between the two planets during the near-alignment. To prevent an impaired command from reaching an orbiter or rover, mission controllers at NASA's Jet Propulsion Laboratory, Pasadena, Calif., are preparing to suspend sending any commands to spacecraft at Mars for weeks in April. Transmissions from Mars to Earth will also be reduced." Mars will be at its closest to the sun, a slim 0.4 degrees on April 17th.
The ongoing dance of the sun and planets is invisible to the human eye, but coronagraphs can see the show. Join SOHO for a ringside seat.
Realtime Space Weather Photo Gallery
TIPS FOR OBSERVING COMET PAN-STARRS: Comet Pan-STARRS is fading as it recedes from the sun. In recent nights, several experienced observers put its magnitude near +2.3, only about half as bright as last week. Time is running out for easy spotting and photography.
Below, astrophotographer John Chumack of Dayton, Ohio, offers "some tips for capturing your keepsake photo." Follow his recipe to take a picture like this: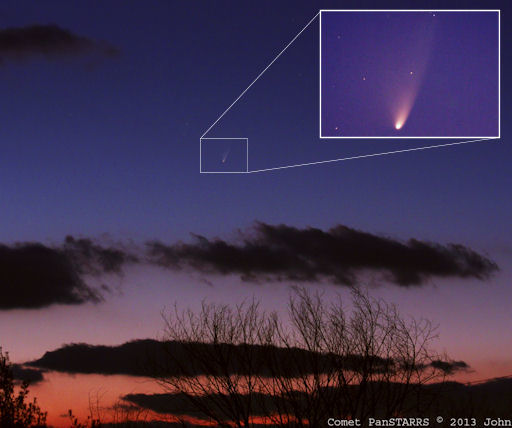 "Find a low west-northwest horizon," he advises. "Be ready before sunset, so you can mark the horizon where the sun set as a reference to find the comet. A digital camera with manual settings is all you need to photograph Pan-STARRS. Try 1 to 30 second exposures at ISO settings ranging from 400 to 1600, about 30 to 45 minutes after sunset. The twilight fades fast, so increase your ISO and exposure time to compensate." Click here for additional details.
Using procedures similar to Chumack's, photographers have recently captured Comet Pan-STARRS over the Grand Canyon, Stonehenge, Greek monuments, Lake Superior, and many other scenic locations.
More: NASA video, 3D orbit, ephemeris, light curves.
---
Realtime Noctilucent Cloud Photo Gallery
[previous years: 2003, 2004, 2005, 2006, 2007, 2008, 2009, 2011]