| | | |
| --- | --- | --- |
| NEW AND IMPROVED: Turn your iPhone or iPod Touch into a field-tested global satellite tracker. The Satellite Flybys app now works in all countries. | | |
DIRECTIONS TO SATURN: Go to the Moon and turn left. Tonight the bright Moon rises in the east in the same patch of sky as Saturn. That means you can use the Moon to find the ringed planet. Backyard telescopes give a great view of Saturn's nearly edge-on rings. Take a look! [sky map]
SUNSPOT MOVIE: Sunspot 1057 is crackling with C-class solar flares. Yesterday, amateur astronomer Michael Buxton of Ocean Beach, California, saw one with his own eyes. "I was trying out a new solar filter on my 4-inch refracting telescope," he says. "My girlfriend and I watched in amazement as magnetic filaments whipped around the sunspot and triggered an eruption." Click on the image to see the flare in action: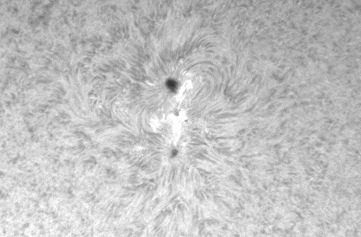 Photo details: Lunt 75mm H-alpha filter, 0.55 Angstroms, Takahashi TSA102
"I made the movie from a sequence of 1-minute images taken between 1755 and 1845 on March 27th," says Buxton. "What a great day to test our new system."
Today could be good, too. C-flares are continuing at a rate of one every 3-to-6 hours, and NOAA forecasters estimate a 20% chance of even stronger M-flares. Readers with solar telescopes are encouraged to monitor developments.
more images: from Cyrille Baudouin of Foussais-Payré, France; from Michael Rosolina of Friars Hill, WV; from Alan Friedman of Buffalo, NY; from Steve Riegel of Santa Maria, CA; from Mike Borman of Evansville, Indiana; from Andreas Murner of Rosenheim Bavaria, Germany; from Peter Paice of Belfast, Northern Ireland; from Ari Koutsouradis of Westminster, MD
LOW-FLYING METEOR: On March 19th at 11:19 Central Time, a meteoroid entered Earth's atmosphere over the southeastern United States and disintegrated in a flash as bright as the crescent Moon. To the human eye, it appeared to be a garden-variety fireball, the kind that appears almost every clear night, but NASA cameras had a different story to tell. Scroll past the fireball snapshot for details.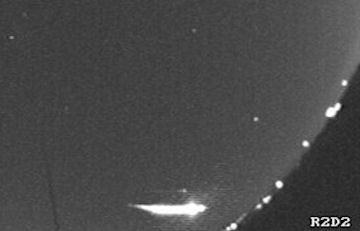 "This was an unusually low-flying meteor," says Bill Cooke of NASA's Meteoroid Environment Office. Cooke and colleagues operate a pair of all-sky cameras, one in Huntsville, Alabama, and another in Chickamauga, Georgia. Both cameras caught the fireball, allowing rapid triangulation of its flight path. "It was first recorded at an altitude of 72.9 km (45.3 miles) and burned up at an altitude of 32.5 km (20.2 miles)."
That's low. Most meteoroids disintegrate around 70 to 80 km high. This one held together for a much deeper descent. "It had a lot of structural integrity. Maybe it was a metallic object," speculates Cooke. "Based on the brightness and velocity of the fireball, I estimate a mass of about 10 kilograms and a diameter of ~20 centimeters - a decent size!"
Cooke's meteor mini-network is "smart." When both cameras catch a fireball, the system's software springs into action and immediately calculates a flight path and orbit for the meteoroid. Cooke receives an email alerting him to interesting events that might otherwise have gone unnoticed. "In the near future, we plan to expand our network along the eastern seaboard of the United States," notes Cooke. "With smart cameras on duty, who knows what we might find?"
---
March Northern Lights Gallery
[previous Marches: 2009, 2008, 2007, 2006, 2005, 2004, 2003]