NEW MORNING STAR: On March 27th, Venus passed by the sun and underwent a transformation--from Evening Star to Morning Star. For the next eight months, the brightest of all planets will shine in the pre-dawn sky, changing phases, casting shadows, and occasionally posing with the crescent Moon for a lovely photo-op. A new animation from graphic artist Larry Koehn shows what to expect when you wake up in the morning: play it.
CRESCENT MOON ALERT: Tonight, when the sun goes down, step outside and look west. You might see something like this: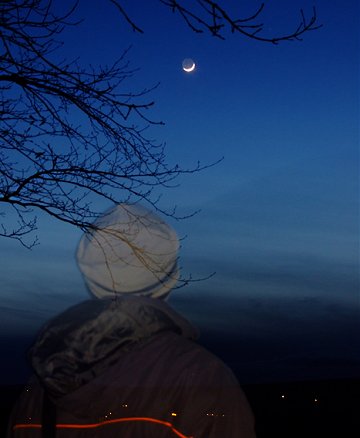 Martin McKenna, who took the photo, reports from Maghera, Northern Ireland: "Tonight, March 28th, I went to the countryside for a good view of the 2-day-old crescent Moon. It was such a fine Spring evening, and the Moon with Earthshine looked great."
more images: from Mike O'Leary of El Cajon, California; from Elias Chasiotis of Markopoulo, Greece; from Kevin Jung of Grand Rapids, Michigan; from Erkki Rauhala of Uurainen, Finland; from Steven Janowiecki of Kitt Peak National Observatory; from Mania Rahban of Isfahan, Iran; from Luca Basili of Rome - Italy; from Amir H. Abolfath of Dizin, Tehran, Iran; from Ulrich C. Beinert in an airplane flying over Dresden, Germany; from Christopher Calubaquib of El Sobrante, California; from Louis Suarato of Albany, NY; from Michael Boschat of Halifax, Nova Scotia
3D SPACE STATION: When space shuttle Discovery undocked from the International Space Station on March 25th, the shuttle left something behind--a brand new pair of 115-ft long solar arrays. Cross your eyes to see the results of last week's big construction in jump-out-of-the-screen 3D:
The crew of Discovery took these pictures shortly after undocking. Patrick Vantuyne of Belgium assembled them as shown for cross-eyed viewing and he also made an anaglyph suitable for 3D glasses.
The new solar wings have added more than 8000 sq. feet of light collecting area to the ISS. This has increased the station's brightness in the night sky and resulted in a number of widely-observed flares caused by sunlight glinting from the copper-colored panels. The ISS can now outshine Venus (the brightest planet) by a factor of four and Sirius (the brightest star) by a factor of nearly 70!
That's worth a look. Check the Simple Satellite Tracker for flyby times.
---
March 2009 Aurora Gallery
[previous Marches: 2008, 2007, 2006, 2005, 2004, 2003, 2002]
---