| | | |
| --- | --- | --- |
| iPHONE VS ANDROID! Actually, it doesn't matter which phone you carry. Our cool, new app turns both smartphones into field-tested satellite trackers. Learn more. | | |
BEWARE THE MARS HOAX: According to a widely-read email, Mars will appear in tonight's sky as wide and bright as a full Moon. Imagine the tides! Don't worry, it's just the Mars Hoax.
FIRST LIGHT FROM THE NEW SOLAR TELESCOPE: Before you read another word, click on the image and take a close look at sunspot 1084: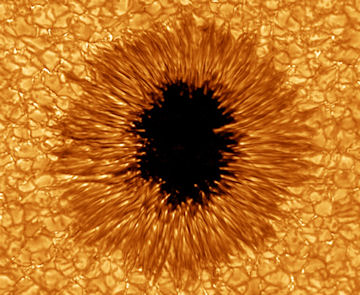 This is a first light adaptive optics image from the New Solar Telescope (NST) at the Big Bear Solar Observatory in California. "With a 1.6-meter primary mirror, the NST is the largest solar telescope in the world," says Nicolas Gorceix of the observatory staff. "It has realtime correction for atmospheric distortion (adaptive optics), so we can see things in very high resolution--as small as 65 km wide on the sun."
"For perspective," he adds, "Earth is slightly smaller than the whole sunspot including the dark umbra and the daisy petal-like penumbra. The spot is surrounded by the sun's ubiquitous granular field [which shows the boiling motions of the sun's surface]."
Researchers believe that high-resolution studies of sunspots can help them understand how sunspots evolve and anticipate when they're about to erupt. "Next year, we plan to upgrade the telescope with a much higher-order adaptive optics system to get even better images," says Gorceix. Stay tuned to the BBSO home page for updates.
MIDNIGHT SKY SHOW: On August 26th, the two brightest objects in the night sky got together for a spectacular conjunction. Tom Cocchiaro reports from Portsmouth, New Hampshire: "I went outside just after midnight to get some mail I had forgotten and--BOOM! There they were, the moon and Jupiter wedged between two tall maple trees like something from 2001 A Space Odyssey." He grabbed his new Canon T2i and recorded the scene: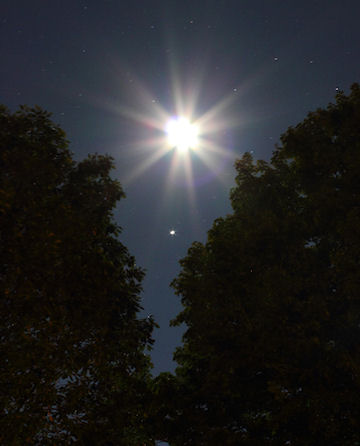 Readers, did you miss it? An even better version of this conjunction occurs next month. The Moon and Jupiter will meet again on Sept. 22nd when the Moon is full and Jupiter simultaneously reaches an 11-year peak in brightness. Mark your calendar!
more images: from Monika Landy-Gyebnar of Veszprem, Hungary; from Stuart Atkinson of Kendal, Cumbria, England; from Tamás Ábrahám of Szomor, Hungary; from Mohammad Mehdi Asgari of Arak, Markazi, Iran; from Anton Husek of Klatovy Czech Republic;
---
August 2010 Northern Lights Gallery
[previous Augusts: 2009, 2008, 2007, 2006, 2005, 2004, 2003]
---