| | | |
| --- | --- | --- |
| FLYBY ALERT! Space shuttle Discovery launches on May 31st. Get your flyby alerts from Space Weather PHONE | | |
AURORA WATCH: A solar wind stream is heading for Earth and it could spark a mild geomagnetic storm when it arrives on May 28th or 29th. High-latitude sky watchers should be alert for auroras.
PHOENIX FROM ABOVE: The powerful HiRISE camera onboard NASA's Mars Reconnaissance Orbiter has photographed Phoenix resting safely at its landing site in the martian arctic. "The lander stands out remarkably well against dark red Mars," says HiRISE principal investigator Alfred McEwen of the University of Arizona: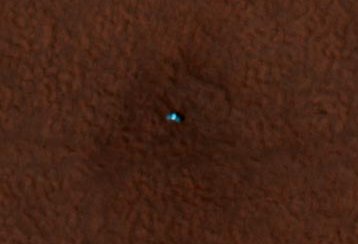 "We can see Phoenix's two solar arrays very well," he continues. "The bright spot in the middle is a specular reflection off some part of the lander.
HiRISE also caught Phoenix in the act of parachuting to Mars--the first time one spacecraft from Earth has ever photographed another landing on an alien planet. Later HiRISE photos of the parachute on the ground show stripes on the parachute and hints of chord connecting the 'chute to the lander's back shell. HiRISE is proving itself almost as amazing as Phoenix itself. "We are thrilled with these images," says McEwen.
SPACE FOSSIL: On May 23rd, Ralf Vandebergh trained his backyard telescope on the International Space Station (ISS) as it flew over his home in the Netherlands. The picture he took revealed a bright, modern spaceport, bustling with crew and docked spaceships (Jules Verne and Progress M64).
Minutes later, another object flew overhead, small, dim, and, unlike the ISS, from the past. "It was the upper stage of a legendary Vostok 8A92M rocket, the same rocket used in the 1960s during the first Russian manned flights," says Vandebergh. "This one was launched in 1979." He swung his telescope to the old rocket body, took a picture, and placed the image beside that of the ISS: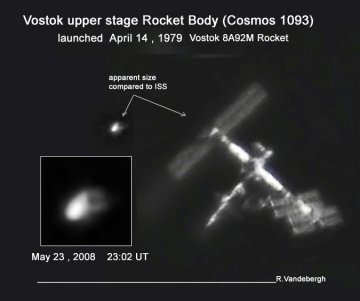 "It was no easy job to catch this small object," he says. "The Vostok was dim and moving really fast compared to the ISS, making it difficult to keep it in the crosshairs of my finderscope as I tracked the spacecraft manually across the sky."
"This is like a fossil of space history in our night sky," he says. Indeed, you never know what might be flying overhead--even fossils.
---