| | | |
| --- | --- | --- |
| They came from outer space--and you can have one! Genuine meteorites are now on sale in the Space Weather Store. They make a unique Valentine's gift. | | |
SATURDAY NIGHT SOLAR SAIL: NanoSail-D really is glinting in the sunlight. NASA scientist Dean Alhorn, the solar sail's principal investigator, sends this report from Huntsville, Alabama: "Last night, Feb. 26th, I saw it flash 3 or 4 times! I was following the sail's expected path with my eyes when I saw a flash in the sky above the tree line. A couple of minutes later I saw a second flash higher in the sky. A third and maybe a fourth were seen as NanoSail-D disappeared to the southwest. The flashes were brighter than anything in the sky." Alhorn's Saturday-night experience was repeated by other observers; click on the links for anecdotes and photos: #1, #2, #3, #4.
DISCOVERY DOCKED: Space shuttle Discovery docked to the International Space Station on Saturday, Feb. 26, at 2:15 p.m. EST, delivering humanoid Robonaut 2 to join the ISS crew. Just before docking, observers in Europe witnessed a spectacular double flyby of the converging spacecraft. In Gloucestershie, England, amateur astronomer Rob Bullen trained his 8-inch telescope on the pair, and this is what he saw: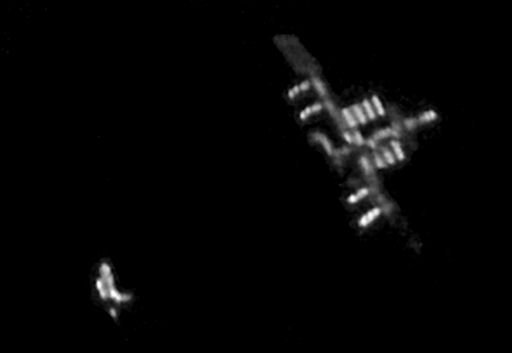 "After a very cloudy day, the skies cleared to reveal this stunning pass of the ISS and Discovery," says Bullen. "I could not believe the timing was so fortuitous to show the shuttle closing in on the station."
Another opportunity to see the spaceships arranged thus will come in 7 days when Discovery undocks from the ISS. Until then, click on the links for more double shots: from Tamas Ladanyi of Veszprem, Hungary; from Emmanuel Marchal of London, England; from Anton Husek of Svihov, Czech Republic; from Monika Landy-Gyebnar of Veszprem, Hungary; from Rafael Schmall of Hungary, Somogy, Kaposfo
WINTER HALOES: On Saturday morning, Feb. 26th, the sky above Logan, Utah, erupted in a network of luminous arcs and rings. This photo taken by Lyle Johnson shows just a fraction of the display: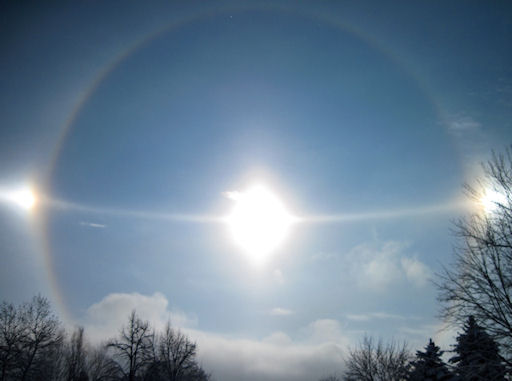 "In addition to a halo surrounding the sun, there were bright sundogs to the left and right, and a giant white ring parallel to the horizon," says Johnson. "[Most beautiful of all] was a colorful bow directly overhead."
These are all ice haloes. Sunlight shining through hexagonal crystals, some short and squat like plates and others long and thin like pencils, produced the luminous shapes. The crystals must have been scattered around the whole sky to account for such a display. Sounds like winter....
BONUS: "Look closely at Lyle Johnson's halo display and you will see two very rare halos," urges atmospheric optics expert Les Cowley. "They branch upwards from each sundog just outside the circular 22 degree halo. These are 'middle Lowitz arcs' rarely seen and probably made by elongated non regular hexagonal plate crystals. This image shows one of them. When the 'ordinary' halos are as bright as they appeared here it is always worthwhile to scour the sky for rare ones!"
more images: from Douglas J. Ede of Logan, Utah, USA
---
NanoSail-D Photo Gallery
[NASA: Solar Sail Stunner] [Photo Contest]
---
February 2011 Aurora Photo Gallery
[previous Februaries: 2010, 2009, 2008, 2007, 2006, 2004, 2003, 2002]