PRETTY SKY ALERT: When the sun goes down on Friday, Feb. 27th, look west into the sunset. The Moon and Venus are converging there for a conjunction of rare beauty. Get the full story from Science@NASA.
SATELLITE DEBRIS: US Strategic Command is still cataloguing debris from the Feb. 10th satellite collision over northern Siberia. "The count is now at 109 catalogued fragments for Iridium 33 and 245 for Kosmos 2251," says satellite observer Daniel Deak, who has prepared some 3D maps of the debris for readers of spaceweather.com. Click on the image to view a snapshot of Kosmos fragments on Feb 26th: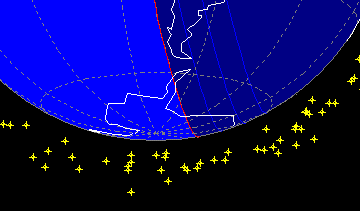 A similar image shows Iridium 33 debris, and other views are available, too: #1, #2, #3, #4, #5.
These maps reveal in full what earlier, less complete maps strongly hinted: Kosmos debris is scattered more widely than Iridium. "Kosmos fragments range in altitude from 250 km to 1690 km," says Deak. For comparison, "Iridium fragments range only from 525 km to 1092 km." Kosmos fragments descend all the way down to the 350 km orbit of the ISS. The space station is in little danger, however; most of the Kosmos scatter is over the Antarctic where the ISS does not go.
The fragment count now stands at 354. Says Deak, "there are surely more to come."

FEB 27th UPDATE: Since these maps were posted on Feb. 26th, the catalogued fragment count has jumped from 354 to 414.
COMET TAILS: Have you been wondering why Comet Lulin has two tails--and why one of them disappeared on Feb. 24th just as the comet was passing Earth? Science popularizer Borja Tosar of Spain has created a series of diagrams to answer these questions. Click on this image to begin: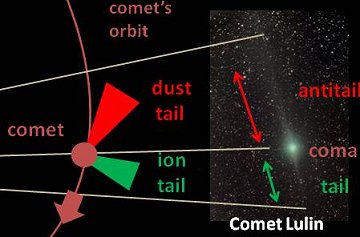 View the complete set: #1, #2, #3, #4
The nucleus of Comet Lulin spews a mixture of dust and gas into space. Quickly, the mixture separates into two distinct tails: The gaseous "ion tail" is pushed straight away from the sun by solar wind. The weightier dust tail resists solar wind pressure and aligns itself more or less with the comet's orbit.
The next image shows why the ion tail disappeared: It is temporarily hidden behind the comet's head. And finally we see Tosar's prediction for the future: The ion tail will re-appear during the early days of March. The two tails, ion and dust, and sometimes called the tail and the antitail.
UPDATED: Comet Lulin Photo Gallery
[Comet Hunter Telescope] [Sky maps: Feb. 27, 28]
---
February 2009 Aurora Gallery
[Previous Februaries: 2008, 2007, 2006, 2004, 2003, 2002]
---