| | | |
| --- | --- | --- |
| Where's Saturn? Is that a UFO--or the ISS? What's the name of that star? Get the answers from mySKY--a fun new astronomy helper from Meade. | | |
STRANGE CRATERS: The surprises continue. Scientists examining photos from Messenger's January flyby of Mercury have found several strange dark-rimmed craters and one crater with a shiny bottom. The dark rims may be "melt marks" caused by exploding impactors. And the shiny bottom? No one knows. Click here and ponder the mystery.
MORNING SHOW: This morning in Fort Collins, Colorado, Robbie Merrill woke up early, looked southeast, and saw two bright lights beaming through the dawn. It was Venus and Mercury only 1o apart: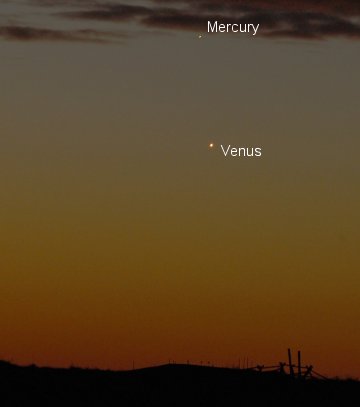 Photo Details: Nikon D40 at ISO 400, 3 second exposure, f/14
The two innermost planets have gathered together and are rising before the Sun every morning for the next week. They're easy to see if you can wake up early enough. A date of note is March 5th when the crescent moon joins the show: sky map.
more images: from Doug Zubenel of Johnson Co. Kansas; from Dan Gibbons of St. George, Utah; from Jorge Solano of San José Pinula, Guatemala; from Salvador Aguirre of Hermosillo, Mexico; from Elias Chasiotis of Markopoulo, Greece;
NEW YORK FIREBALL: "Last night [Feb. 25], I was just out walking the dog when I saw a HUGE burning ball fly through the air, reports. Michele Kiefer of Ithaca, New York. "If the stars were the size of a pin prick, this object was the size of a quarter!" John Cook of Endicott, New York, witnessed the same thing: "It was glorious and really bright. There really was no missing it if someone was looking up."
What was it? Answer: A garden variety fireball.
Earth is under constant bombardment by small asteroids and other space debris, creating a drizzle of surprisingly-bright and -frequent meteors. According to calculations by NASA astronomer Bill Cooke, fireballs as bright as Venus appear somewhere on Earth more than 100 times daily. Fireballs as bright as a quarter Moon occur once every ten days, and fireballs as bright as a full Moon once every five months: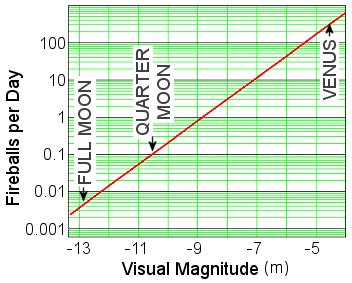 The vast majority are never noticed. About 70% of all fireballs streak over uninhabited ocean. Half appear during the day, invisible in sunny skies. Many are missed, however, simply because no one bothers to look up. So grab a leash and a dog (optional), and head outside. The chance of a fireball is better than you think.
GREENLAND FIREBALL: On Feb. 17th, a small and random asteroid disintegrated in the skies above Qaanaq (Thule) Greenland. "At first, I thought it was an airplane falling from the sky," says eyewitness Sara Lyberth. "There was a lot of fire and I immediately called the police." Moments later, police officer Farda Olsen took this picture of the meteor's smokey trail twisting in the wind. Radio Greenland offers a full account.
---
Lunar Eclipse Photo Gallery
[Interactive World Map of Eclipse Photos]