| | | |
| --- | --- | --- |
| SATELLITE FLYBYS APP: Turn your iPhone or iPod into a field-tested satellite tracker! Spaceweather.com presents the Satellite Flybys app. | | |
STRATOSPHERIC CLOUD ALERT: On the evening on Jan. 26th, sky watchers in parts of England and the Netherlands witnessed unusually colorful sunsets and prolonged twilights. Atmospheric optics expert Les Cowley believes that "we are experiencing an episode of Polar Stratospheric Clouds (Type 1) as a result of unusually low stratospheric temperatures. I saw them myself." High-latitude sky watchers should be alert for these clouds at sunrise and sunset in the days ahead.
CLOSE ENCOUNTER WITH MARS: Tonight, a few hours after sunset, go outside and look east. That bright orange star hanging halfway up the sky is Mars having a close encounter with Earth. The Red Planet is only 99 million km away and looks bigger through a telescope than at anytime between 2008 and 2014. Here it is posing for Doug Zubenel's 12.5-inch "PlanetCatcher" in Kansas: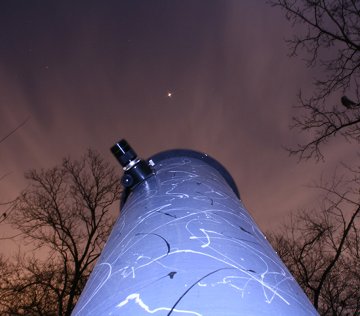 "The view through the eyepiece was very nice," says Zubenel. "The northern polar cap and Aurorae Sinus (a dark feature in the southern hemisphere of Mars) were easily seen at 488X magnification."
Browse the links for more views through the eyepiece: from Mike Hood of Kathleen, Georgia; from John Nassr of Baguio, Philippines; from Jacob Bassøe of Copenhegen, Denmark; from Alan Friedman of Buffalo, NY; from Sadegh Ghomizadeh of Tehran, Iran;
MINOR METEOR OUTBURST: On the night of Jan. 20/21, a network of video cameras operated by amateur astronomers in Finland caught a flurry of meteors emerging from Ursa Minor, the Little Dipper. No bright displays were expected that evening and, at first, astronomers weren't sure what they had seen. "Then Esko Lyytinen realized it was the gamma Ursae Minorids--a recently discovered 'minor shower' that wasn't supposed to be so bright," says Peter Jenniskens of the SETI Institute in California. This sky map shows the meteor trails recorded by the video network: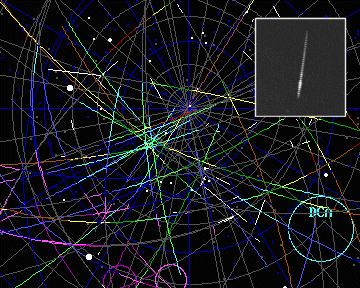 Image courtesy Esko Lyytinen and Peter Jenniskens
Gamma Ursae Minorids are traced in blue. "Note how the blue lines converge near a single radiant point," says Jenniskens. Inset is an actual meteor captured by one of the cameras.
The shower has attracted attention before. It was discovered by Peter Brown and coworkers at the University of Western Ontario, who have recorded gamma Ursae Minorid echoes for the past five years using the Canadian Meteor Orbit Radar (CMOR). But until now, the meteors were invisibly faint. According to Jenniskens, 2010 marks the first bright outburst that could be seen with the unaided eye.
"The source of this shower has not been identified," says Jenniskens. "It is probably a short-period comet passing not far from Jupiter. The 11-day duration of the gamma Ursae Minorids [in radar records] suggests that some significant breakup occurred not too long ago and the comet may now be hiding among the high inclination (i = 48.5 deg.) near-Earth asteroid population."
Will this brightening shower make an even bigger splash next year? No one knows, but Jenniskens plans to mark his calendar for Jan. 20, 2011: Don't forget the gamma Ursae Minorids.
---
January Northern Lights Gallery
[previous Januarys: 2009, 2008, 2007, 2005, 2004, 2001]
---
Solar Eclipse Photo Gallery
[World Map of Eclipse Sightings]