| | | |
| --- | --- | --- |
| Metallic photos of the sun by renowned photographer Greg Piepol bring together the best of art and science. Buy one or a whole set. They make a stellar gift. | | |
SUNSET CONJUNCTION: When the sun goes down tonight, step outside and look southwest. Venus and the 5% crescent Moon are in conjunction. The two bright celestial bodies look fantastic beaming through the twilight only 3o apart. It's a nice way to end the day. [sky map]
RADIATION STORM AND CME ALERT: A solar radiation storm is in progress around Earth. At the moment, the storm is classified as minor, which means it has little effect on Earth other than to disturb HF radio transmissions at high latitudes. Energetic protons, which make up the bulk of the storm, were accelerated in our direction earlier today by shock waves in a CME racing away from the sun at about 1000 km/s (2.2 million mph). According to analysts at the Goddard Space Weather Lab, the CME itself will reach Earth on Nov. 28th around 14:23 UT (+/- 7 hours). Click to view an animated forecast track: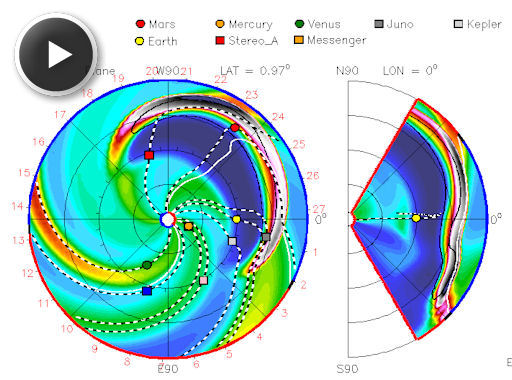 The cloud could triggger geomagnetic storms when it arrives on Monday. High-latitude sky watchers should be alert for auroras. Aurora alerts: text, phone.
The forecasting group at Goddard notes that no two spacecraft have yet beamed back concurrent images of the CME. This makes their estimates of the CME's speed and direction necessarily approximate. Stay tuned for updates as more data arrive.
BLACK FRIDAY SOLAR ECLIPSE: Yesterday, Nov. 25th, the new Moon passed in front of the sun, slightly off-center, producing a partial solar eclipse visible from Antarctica, Tasmania, and parts of South Africa and New Zealand. Mike Nicholson photographed the event about two minutes before sunset from Otaki Beach, NZ: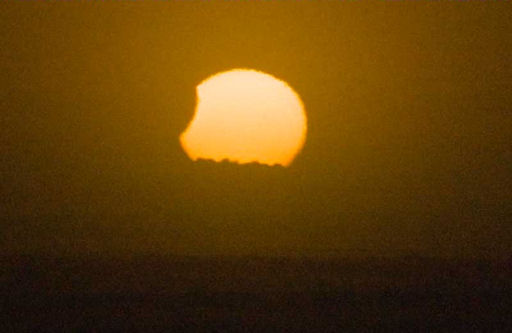 "We were experiencing gale force Sou'westerlies when I took the picture," says Nicholson. "Low clouds plus flying salt and sand provided a natural filter to reduce the glare of the sun."
Maximum coverage occurred about 100 miles off the coast of Antarctica where the sun turned into a slender 9% crescent. Will any pictures be submitted from that remote location? We're still waiting.
more images: from James of Christchurch, New Zealand; from Joerg Schoppmeyer of Signal Hill, Cape Town; from Bonar Carson of Dunedin, New Zealand; from Peter Sayers of Penguin, Tasmania, Australia
NORTHERN LIGHTS: As winter approaches, days are growing short around the Arctic Circle. "Luckily we still have Northern Lights to illuminate our village," says Miika Sirkiä, who sends this picture from Kittilä in the Finnish Lapland on Nov. 24th: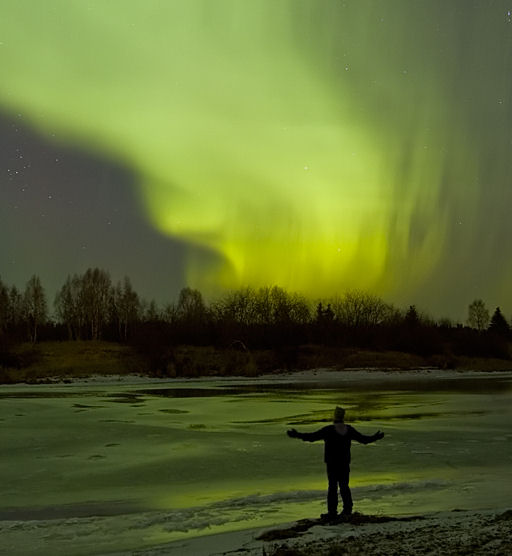 "Around midnight, the auroras were very bright--enough to turn the river Ounasjoki green," says Sirkiä.
Auroras have been flickering around the Arctic Circle for several days. These displays are not caused by major solar activity. Instead, they are prompted by small magnetic fluctuations in the solar wind. The interplanetary magnetic field (IMF) near Earth tips south, partially canceling Earth's north-pointing magnetic field. Solar wind pours in, oh so briefly, to excite the Northern Lights. Aurora alerts: text, phone.
more images: from Andy Keen of Ivalo, Northern Lapland, Finland; from Thomas Achermann of Jerisjärvi, Muonio, Lapland, Finland; from Steve Milner of Ft. St. John, British Columbia; from Borkur Hrolfsson of Reykjavik, Iceland; from Eric Rock of Churchill, Manitoba; from Pavel Kantsurov of Norilsk, Russia;