ICY SURPRISE ON MARS: In 1976, NASA's Viking 2 lander dug into the soil of Mars in search of water and came up dry. NASA has just learned that Viking 2 might have succeeded if it had dug only 4 inches deeper. Meteorites hitting the Red Planet in 2008 and 2009 have exposed subsurface deposits of ice in the general area where Viking 2 landed. According to pictures taken by the Mars Reconnaissance Orbiter, the ice is surprisingly close to the surface in easy reach of robotic landers or thirsty human explorers. Get the full story from Science@NASA.
SOLAR ACTIVITY: Around the world, amateur astronomers are watching an impressive display of solar prominence activity. "Wow and then some!" exclaims from Steve Riegel who sends this picture from Santa Maria, California: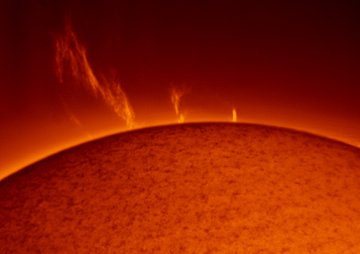 "This is by far the biggest prominence I've seen since I got my Personal Solar Telescope in 2005," he says. "I hope this is a taste of things to come as we start climbing out of solar minimum."
more images: from Emiel Veldhuis of Zwolle, the Netherlands; from Francisco A. Rodriguez of Cabreja Mountain Observatory, Canary Islands; from Pete Lawrence of Selsey, West Sussex, UK; from Cai-Uso Wohler of Bispingen, Germany; from P-M Hedén of Ålbo, Sweden; from Fabio Mariuzza of Biauzzo, Italy; from Rich Schueller of Massachusetts;
THREE SATELLITES IN THREE MINUTES: Last night, Mark Staples stood beneath a Spanish moss-draped oak tree on the shore of Little Lake Santa Fe in central Florida. He tilted his camera up to shoot the Moon when, with no warning, a satellite flashed through the branches. "It was a lucky shot," he says, but that was just the beginning: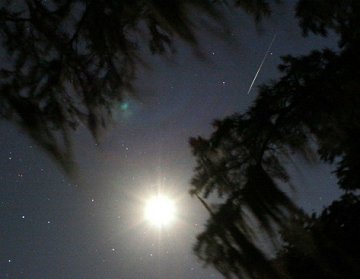 A minute later, the Hubble Space Telescope glided by. "I used the moss to block the Moon so that I could photograph the HST (image). Then I turned around and saw the International Space Station just clearing the trees over the city lights of nearby Starke (image). In all, I caught three satellites in three minutes!"
How many satellites are about to flash over your hometown? Check the Simple Satellite Tracker for flybys.
---
Sept. 2009 Aurora Gallery
[previous Septembers: 2008, 2007, 2006, 2005, 2004, 2002, 2001]
---