| | | |
| --- | --- | --- |
| Can you drop a probe on a comet? A new iPhone game from NASA's Jet Propulsion Laboratory puts you in control of the Rosetta spacecraft as it prepares to intercept Comet 67P/Churyumov-Gerasimenko. Download it now. | | |
MIDNIGHT ROCKET PLUMES: On Tuesday, March 27th, between midnight and 5 am EDT, NASA plans a rapid-fire launch of five sounding rockets from the Wallops Flight Facility in Virginia. The rockets will deliver a chemical tracer to the upper reaches of Earth's atmosphere, forming milky white plumes that reveal high-speed winds at the edge of space. The display should be visible to the naked eye from coastal areas between South Carolina and New Jersey. [full story] [updates]
CELESTIAL TRIANGLE: They're at it again. Venus, Jupiter and the crescent Moon are in conjunction, forming a bright triangle in the sunset sky. On Sunday evening, March 25th, Alexandre Croisier photographed the trio from the Pointe of Dinan in Brittany, France: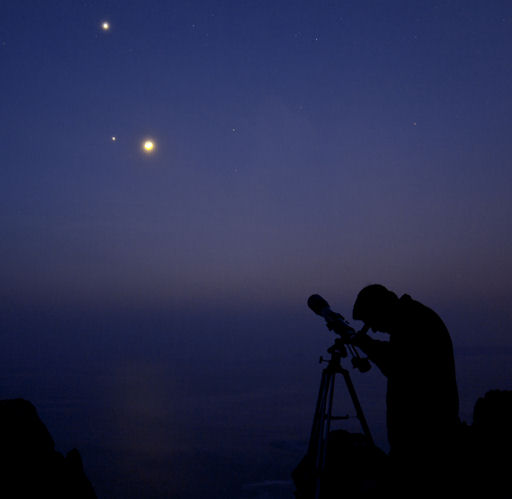 "They are easy to see with the naked eye," says Croisier, "and they look great through a telescope, too."
The triangle will appear again on Monday evening, March 26th, although the vertices will be shifted as the Moon glides from Jupiter to Venus. Observing tip: Look before the sky fades completely black. Bright planets are extra-beautiful when they are framed by twilight blue. Sky maps: March 25, March 26.
more images: from Petr Horálek at Lichnice castle, Podhradi, Czech republic; from Sylvain Weiller of Saint Rémy lès Chevreuse, France; from M. Raşid Tuğral of Eymir Gölü, Ankara, Turkiye; from Piotr Potepa of Torun, Poland; from Martin McKenna of White Park Bay Beach, Antrim Coast, N. Ireland; from Stefano De Rosa of Turin (Italy); from P-M Hedén of Waldemars Cape, Stockholm Sweden; from Monika Landy-Gyebnar of Paloznak, Hungary; from Roger Schneider of Brugg Switzerland; from Szymon Seweryn of Cracow, Poland; from Alan C Tough of Elgin, Moray, Scotland; from Christophe Stolz of Köniz, Switzerland; from Stephan Brügger of Lübeck, Germany
ROBOT SPACESHIP CHASES ISS: Europe's robotic supply ship, the Edoardo Amaldi (ATV-3), is chasing the International Space Station (ISS) around Earth. Marco Langbroek saw it at daybreak on March 24th flying over the rooftops of his neighborhood in Leiden, the Netherlands: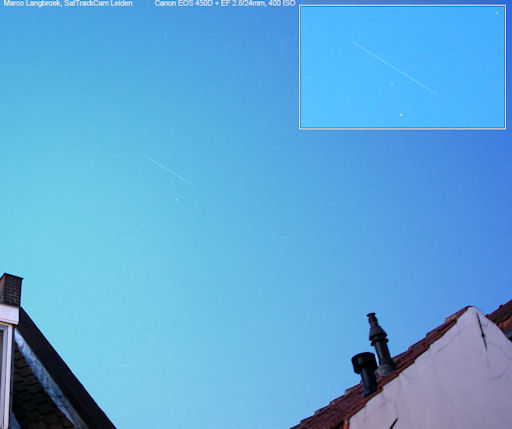 "The ATV-3 was very bright and easily visible to the naked-eye, nothwithstanding the bright twilight (the sun was less than 7o below the horizon)," says Langbroek. "It was about magnitude 0 to -1.5, and somewhat orange in color. A video of the flyby may be found here."
Launched on March 23rd laden with almost 7000 lb of supplies, the cargo carrier is expected to dock with the ISS on March 28th. As the two spacecraft converge, it might be possible to see them both in the sky at once. Check SpaceWeather.com's Simple Satellite Tracker or your cell phone to see if you are favored with a double flyby.
---
February 2012 Aurora Gallery
[previous Februaries: 2011, 2010, 2009, 2008, 2007, 2006, 2004, 2003, 2002]