DOUBLE FLYBY ALERT: After undocking on March 25th, space shuttle Discovery and the International Space Station are now circling Earth in tandem. Check the Simple Satellite Tracker to see if you are favored with a double flyby before Discovery lands on Saturday, March 28th.
double flyby images: from Pat Boomer of Alberta, Canada; from Alan Conrad of Liverpool, Nova Scotia, Canada; from Martin Mc Kenna of Maghera, Co. Derry, N. Ireland; from Jason Evans of Eastleigh Hampshire UK; from P-M Hedén of Vallentuna, Sweden;
AROUND THE BEND: The sun has been without spots for nearly a month, but the blank spell could be coming to an end. The Solar and Heliospheric Observatory (SOHO) is monitoring intense activity on the sun's northeastern limb: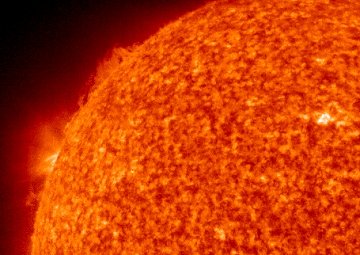 The source could be a sunspot located just over the horizon. We'll know within the next ~24 hours. Solar rotation is turning the active region toward Earth, and by March 27th direct viewing should be possible. Readers, if you have a solar telescope, keep an eye on the limb.
BEACH 'BOWS: "This week, I went to Margate Beach to walk the dogs and I noticed an unusual rainbow above the horizon," reports photographer Danny Ratcliffe of Queensland, Australia. "There were 4 or 5 sections of rainbow rippling alongside the main 'bow. It looked awesome--but what caused it?" (continued below)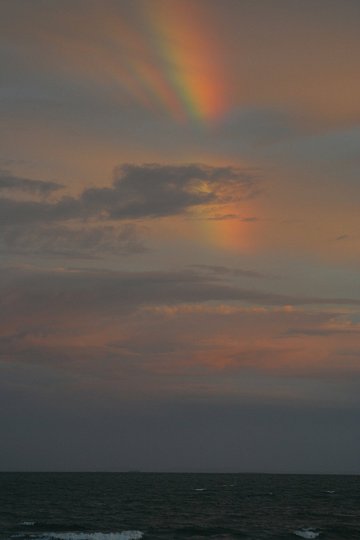 Photo details: Canon 350D, ISO 200, F5.6, 0.1 sec
Atmospheric optics expert Les Cowley explains: "Purple and green fringes inside a rainbow are called supernumeraries. Light waves squeezed through small raindrops interact and interfere to make them - the smaller the drops the wider apart the fringes. This bow is very unusual because there are so many fringes and they are fan shaped. This says that as we get higher in the picture the falling raindrops were for some reason smaller and smaller. The everyday rainbow still has mysteries!"
---
March 2009 Aurora Gallery
[previous Marches: 2008, 2007, 2006, 2005, 2004, 2003, 2002]
---