| | | |
| --- | --- | --- |
| Listen to radar echoes from satellites and meteors, live on listener-supported Space Weather Radio. | | |
QUIET SUN : Solar activity is low with only a slight (15%) chance of M-class solar flares during the next 24 hours. Solar flare alerts: text, voice.
BIG SUN-DIVING COMET DISCOVERED: Astronomy forums are buzzing with speculation about newly-discovered Comet C/2012 S1 (ISON). Currently located beyond the orbit of Jupiter, Comet ISON is heading for a very close encounter with the sun next year. In Nov. 2013, it will pass less than 0.012 AU (1.8 million km) from the solar surface. The fierce heating it experiences then could turn the comet into a bright naked-eye object. (continued below)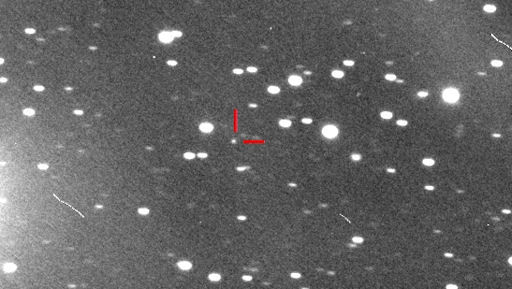 Comet ISON photographed by E. Guido, G. Sostero & N. Howes on Sept. 24. [more]
Much about this comet--and its ultimate fate--remains unknown. "At this stage we're just throwing darts at the board," says Karl Battams of the NASA-supported Sungrazer Comet Project, who lays out two possibilities:
"In the best case, the comet is big, bright, and skirts the sun next November. It would be extremely bright -- negative magnitudes maybe -- and naked-eye visible for observers in the Northern Hemisphere for at least a couple of months."
"Alternately, comets can and often do fizzle out! Comet Elenin springs to mind as a recent example, but there are more famous examples of comets that got the astronomy community seriously worked up, only to fizzle. This is quite possibly a 'new' comet coming in from the Oort cloud, meaning this could be its first-ever encounter with the Sun. If so, with all those icy volatiles intact and never having been truly stressed (thermally and gravitationally), the comet could well disrupt and dissipate weeks or months before reaching the sun."
"Either of the above scenarios is possible, as is anything in between," Battams says. "There's no doubt that Comet ISON will be closely watched. Because the comet is so far away, however, our knowledge probably won't develop much for at least a few more months."
Meanwhile, noted comet researcher John Bortle has pointed out a curious similarity between the orbit of Comet ISON and that of the Great Comet of 1680. "Purely as speculation," he says, "perhaps the two bodies could have been one a few revolutions ago."
Stay tuned for updates.
Realtime Space Weather Photo Gallery
AUTUMN LIGHTS: The onset of northern autumn means it's aurora season. For reasons researchers don't fully understand, equinoxes are the best times to see Northern Lights. And, right on cue, the Arctic Circle is glowing. Marianne Bergli sends this picture of auroras shimmering directly above Storfjord, Norway: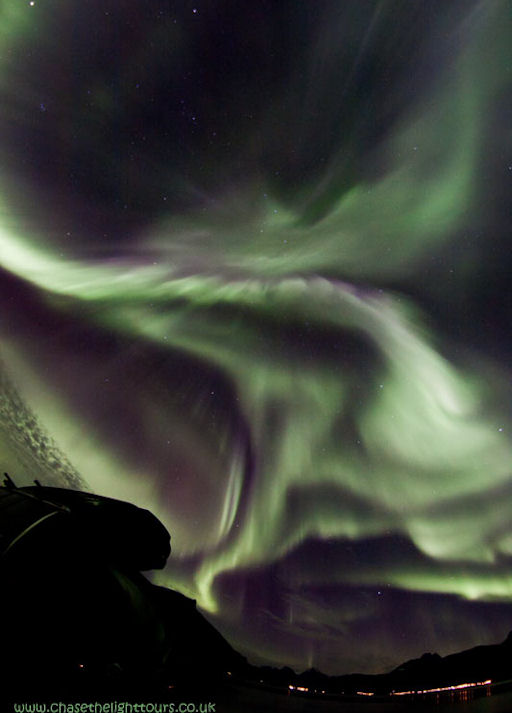 "Last night it was difficult to select [which part of the sky to photograph]. The auroras were dancing everywhere," says Bergli. "Eventually I was just lying on my back looking up. It was absolutely, unbelievable wonderful."
As the week begins, the solar wind velocity is low (~350 km/s), but at this time of year it only takes a gentle gust to ignite bright auroras around the Arctic Circle. High-latitude sky watchers should remain alert for auroras. Aurora alerts: text, voice.
---
Realtime Noctilucent Cloud Photo Gallery
[previous years: 2003, 2004, 2005, 2006, 2007, 2008, 2009, 2011]