| | | |
| --- | --- | --- |
| They came from outer space--and you can have one! Genuine meteorites are now on sale in the Space Weather Store. | | |
QUIET SUN: This weekend, none of the sunspots on the Earthside of the sun is actively flaring. NOAA forecasters put the odds of a significant eruption at no more than 5%. Solar flare alerts: text, voice.
FOUR HOURS IN A FEW MINUTES: On March 17th, St. Patrick's Day, a CME hit Earth's magnetic field, sparking shamrock-green auroras around the Arctic Circle. Many photographers were exhausted from staying up all night to record the display. Goran Strand of Froson, Sweden, kept working, though. "I've spent the last five days processing the images I recorded." Click to view four hours of Northern Lights in only a few minutes: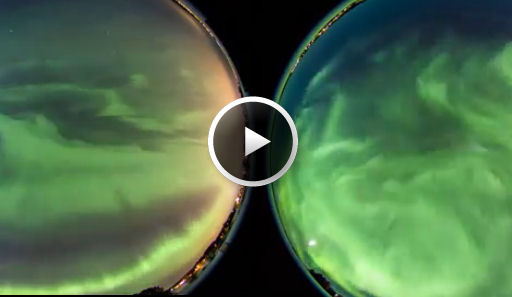 "The time lapse consists of 2464 raw images totaling 30 gigabytes," he says. "The photo of the Sun in the movie is a hydrogen-alpha mosaic I made from ten images captured on March 16th, the day before the storm. That one was 10 gigabytes. So, all in all, this movie contains over 40 gigabytes of data."
A similar display tonight is unlikely. No CMEs are en route to Earth, and the solar wind is calm. NOAA forecasters estimate a scant 5% chance of polar geomagnetic storms on March 24th. Aurora alerts: text, voice.
TIPS FOR OBSERVING COMET PAN-STARRS: Comet Pan-STARRS is fading as it recedes from the sun. In recent nights, several experienced observers put its magnitude near +2.3, only about half as bright as last week. Time is running out for easy spotting and photography.
Below, astrophotographer John Chumack of Dayton, Ohio, offers "some tips for capturing your keepsake photo." Follow his recipe to take a picture like this: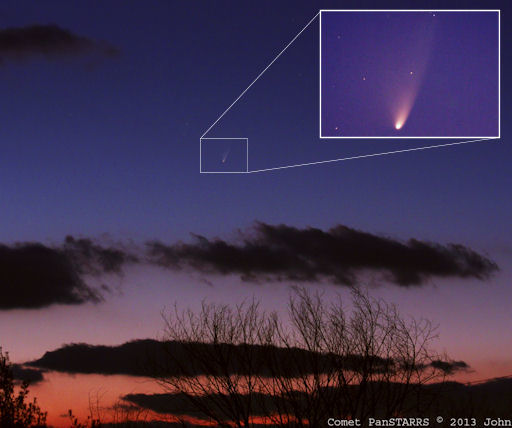 "Find a low west-northwest horizon," he advises. "Be ready before sunset, so you can mark the horizon where the sun set as a reference to find the comet. A digital camera with manual settings is all you need to photograph Pan-STARRS. Try 1 to 30 second exposures at ISO settings ranging from 400 to 1600, about 30 to 45 minutes after sunset. The twilight fades fast, so increase your ISO and exposure time to compensate." Click here for additional details.
Using procedures similar to Chumack's, photographers have recently captured Comet Pan-STARRS over the Grand Canyon, Stonehenge, Greek monuments, Lake Superior, and many other scenic locations.
More: NASA video, 3D orbit, ephemeris, light curves.
---
Realtime Space Weather Photo Gallery
---
Realtime Noctilucent Cloud Photo Gallery
[previous years: 2003, 2004, 2005, 2006, 2007, 2008, 2009, 2011]