| | | |
| --- | --- | --- |
| ASTRONOMY ALERTS: Looking for a unique and affordable gift? Give the heavens for Christmas at Spaceweather PHONE. | | |
BIG INTERSTELLAR DISCOVERY: The solar system is passing through an interstellar cloud that physics says should not exist. In the Dec. 24th issue of Nature, a team of scientists reveal how NASA's Voyager spacecraft have solved the mystery. Get the full story from Science@NASA.
SOLAR ACTIVITY: Yesterday, Dec. 22nd at approximately 0455 UT, magnetic fields around sunspot 1036 erupted, producing a C7-class solar flare. NASA's STEREO-A spacecraft was almost directly above the sunspot at the time of the blast and recorded this extreme ultraviolet movie: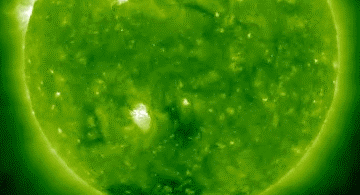 The shadowy wave racing away from the blast site is a "solar tsunami"--a swell of hot, magnetized plasma about 100,000 km high packing as much energy as a million megatons of TNT. The tsunami petered out before it went more than halfway around the sun, but another manifestation of the blast is still going. The eruption hurled a faint coronal mass ejection (CME) into space and the billion-ton cloud should cross Earth's orbit on or about Dec. 25th. A glancing blow to Earth's magnetic field could spark polar auroras for Christmas.
more images: from Pete Lawrence of Selsey, West Sussex, UK; from C. Swiger and J. Stetson of South Portland, Maine; from Robert Arnold of Isle of Skye, Scotland
SNOW FLAKES: The industrial district of Marl, Germany, isn't known for its natural beauty or outdoor photo-ops. But maybe that's because people just haven't been looking closely enough. On Dec. 18th, resident Martina Borchert discovered this scene in her own backyard: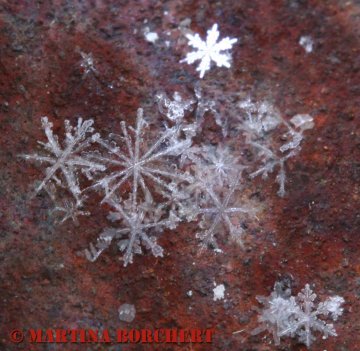 "These crystals landed on top of a rusty old bird feeder," she says. "Normally they would have melted instantly, but the temperature outside was -4 C, and that gave me time to arrange a photo shoot using my Canon EOS 350D and a 60mm macro lens. Two hours and one cold nose later, I stored more than 800 snapshots on my hard drive!" Here is a selection of the best: #1, #2, #3, #4.
Snowflake photography requires patience ("I have been chasing these shots since 2005," says Martina), endurance ("By the end of the session, my fingers were snow white and my nose was Carddinal red," she adds), and good luck ("The rare combination of frigid cold and snow was perfect on Dec. 18th"). Martina's photos show that all these things can come together--even in the industrial district.
---
December Northern Lights Gallery
[previous Decembers: 2008, 2007, 2006, 2005, 2001, 2000]
---