| | | |
| --- | --- | --- |
| BEHOLD THE SUN: Would you like to see fiery prominences and new-cycle sunspots with your own eyes? On sale now: Personal Solar Telescopes. | | |
MISSING GAMMA-RAY BURSTS: A group of gamma-ray bursts at the edge of the Universe has gone missing. This week, researchers have gathered to discuss their whereabouts at a special meeting on gamma-ray mysteries: full story.
ORIONID OUTBURST: The 2008 Orionid meteor shower put on a surprisingly good show. At maximum on Oct. 21st, observers around the world counted 40+ meteors per hour, about twice the usual rate. A fireball monitoring station at the Marshall Space Flight Center in Huntsville, Alabama, recorded this flurry: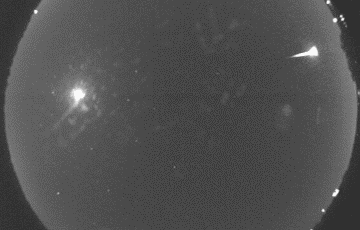 Click to view a larger movie (2 MB gif)
In the movie, the "floodlight" arcing slowly across the sky is the Moon. "Lunar glare should have spoiled the show, but the shower was so bright, we saw it despite the Moon's interference," says Bill Cooke of NASA's Meteoroid Environment Office.
The source of the Orionid meteor shower is Halley's Comet. Every year in October, Earth's crosses a stream of Halley-dust, and meteors fly out of the constellation Orion. The extra Orionids of 2008 probably came from a denser-than-usual filament of dust. This is the third October in a row Orionids have surged, suggesting a trend. Maybe next year's outburst won't be such a surprise!
UPDATED: 2008 Orionid Meteor Gallery
[IMO meteor counts] [2006 Orionids]
SUNSET MIRAGE: According to the California almanac, on Oct. 16th the San Francisco sun should have set at 6:30 pm sharp, yet when photographer Mila Zinkova looked at 6:36 pm the sun was still "up"--in strangely distorted form: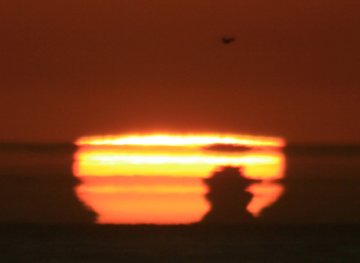 "The explanation is simple," says Zinkova. "The picture I took was not a picture of the sun itself, but a mirage of the sun." Furthermore, she points out, there is a boat in the scene--it is the towering brown blob in the foreground! "The view was just incredible."
Atmospheric optics expert Les Cowley explains what happened: "To make this sun mirage, light from the already set sun was channelled around the curvature of the earth inside an immense atmospheric waveguide. Very strong multiple temperature inversions refracted the sun's rays to make a ducted mock-mirage sunset. The nearby boat was also miraged. The California Coast with its cold ocean currents overlaid by warm winds from the land is ideal for seeing sights like these."
more images: from Aymen Ibrahem of Alexandria, Egypt; from Tamas Ladanyi of Balatonvilagos, Hungary; from Simon Thomas of Porec, Croatia; from Peter Pammer of Jauerling, Austria
---
Oct. 2008 Aurora Gallery
[Previous Octobers: 2007, 2006, 2004, 2003, 2002, 2001, 2000]