Where's Saturn? Is that a UFO--or the ISS? What's the name of that star? Get the answers from mySKY--a fun new astronomy helper from Meade.

LIFTOFF! In spite of threatening weather, space shuttle Discovery launched this morning from the Kennedy Space Center on a two-week mission to the International Space Station. Mission control reports that Discovery has safely reached orbit: updates.

photos: from Ron Netzley of Palm Bay, Florida, 50 miles south of Kennedy Space Center.

BIG FULL MOON: This week's full Moon is the biggest full Moon of 2007. It's no illusion. Some full Moons are genuinely larger than others and Thursday night's will be a whopper. Why? Read the answer below.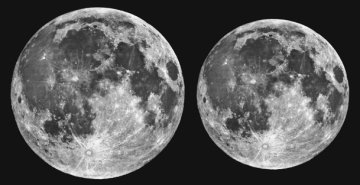 Left: A big, bright perigee Moon. RIght: A lesser apogee Moon.
The Moon's orbit is an ellipse with one side 30,000 miles closer to Earth than the other. The full Moon of Oct. 25-26 is located on the near side, making it appear as much as 14% bigger and 30% brighter than lesser full Moons we've seen earlier in 2007.
In the language of astronomy, the two ends of the Moon's orbit are called "apogee" and "perigee." Apogee is the farthest point, perigee the nearest: diagram. This week's full Moon is a "perigee Moon" with extra-high "perigean tides."
The Moon is 14% bigger, but can you actually tell the difference? It's not so easy. There are no rulers floating in the sky to measure lunar diameters. A fun experiment: Take a friend outside Thursday night and ask if they notice anything unusual about the Moon. Explain perigee after they answer.
FALL COLORS: "Fall foliage is peaking here in South Portland, Maine, and I decided to photograph the colors in an unusual way," says John Stetson. "Here they are reflected in the 6-inch hand-ground mirror of my next solar telescope."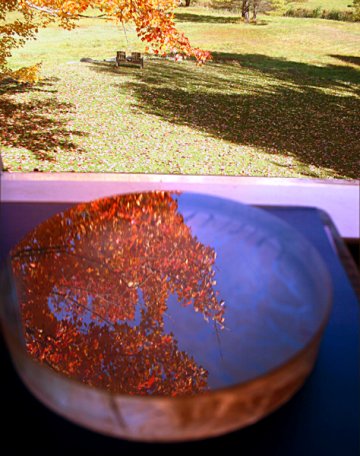 "This mirror is use in a solar telescope designed by John Dobson," he explains. "The polished and figured mirror will remain unsilvered." The sun is so bright, ordinary polished glass is reflective enough. "Also, without a reflective coating this mirror will be able to gather more than enough light to view the full moon this Thursday." Stay tuned for moonshots!
---
October 2007 Aurora Gallery
[September Gallery] [Aurora Alerts]