| | | |
| --- | --- | --- |
| NEW AND IMPROVED: Turn your iPhone or iPod Touch into a field-tested global satellite tracker. The Satellite Flybys app now works in all countries. | | |
DOUBLE FLYBY ALERT: Space shutte Atlantis undocked from the International Space Station this morning at 11:22 am EDT. This sets the stage for double flybys: Atlantis and the ISS will appear as a pair of bright star-like objects sailing across the night sky. Sky watchers in Australia and New Zealand are favored for sightings tonight. Check the Simple Satellite Tracker or your iPhone for predictions.
AMAZING TRANSIT: Yesterday (May 22nd) in Switzerland, Thierry Legault photographed the International Space Station (ISS) and space shuttle Atlantis passing directly in front of the sun. The docked spacecraft were framed by "solar fire" as they raced by new sunspot 1072:
"I have never had such good seeing conditions and this image surpasses any transit image I've done before," says Legault. "The sunspot area is also very sharp." He recorded the split-second transit using a solar-filtered 6" refracting telescope.
NASA's shuttle program is coming to an end later this year, and Atlantis is making her final scheduled visit to the ISS. For this reason, the STS-132 mission patch shows Atlantis heading into the sunset. There is, however, a possibility that Atlantis might fly again. If so, make that sunset a solar transit.
more transit photos: from Yvan Trembley of Chamalieres, France; from Emmanuel Rietsch of Switzerland; from Dirk Lucius of Leer, Germany; from Jerome Delpau of Moncé en Belin, France
ALIEN BEAUTY: Multiwavelength images of the sun beamed to Earth by NASA's Solar Dynamics Observatory (SDO) have a beauty that can only be described as ... alien. We've never seen the sun quite like this before. Consider the following picture taken just hours ago by SDO's Atmospheric Imaging Assembly: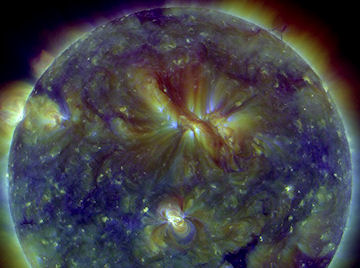 The image is a composite of three extreme ultraviolet wavelengths: 211 Å (false-color red) 193 Å (green) and 171 Å (blue), each tracing a different gas temperature ranging from 1 to more than 2 million degrees K. Highlights of today's sun include an enormous magnetic filament, a coronal hole, and a new sunspot: labels. And that's just for starters. The high-resolution copy of this image shows many more weird and interesting things. Go ahead and take a look; it really is your star.
---
May 2010 Aurora Gallery
[previous Mays: 2008, 2005, 2004, 2003, 2002] [aurora alerts]