| | | |
| --- | --- | --- |
| Metallic photos of the sun by renowned photographer Greg Piepol bring together the best of art and science. Buy one or a whole set. They make a stellar gift. | | |
CHRISTMAS NIGHT: The Moon and Jupiter are converging for a heavenly sky show on Dec. 25, 2012. Got a telescope? Something is happening on Jupiter that makes it an extra-interesting target for backyard optics: video.
SOLSTICE SUNSET: On Dec. 21st, the northern winter solstice, Lauri Kangas of Ontario, Canada, watched the sun disappear into the longest night of the year. "I'm glad the world didn't end yesterday as it was a beautiful view!" he says.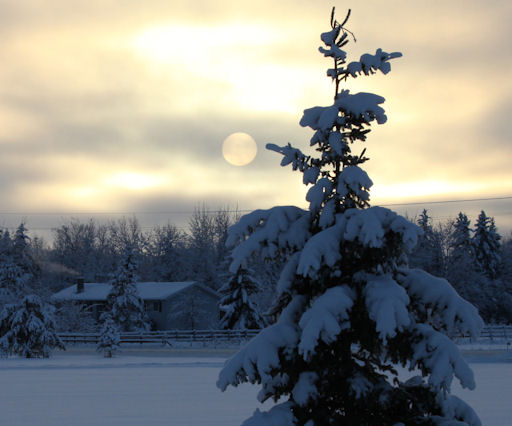 "The lighting was interesting as the snow appeared bluish in colour and the sky was a warm yellow-gray," he adds. "The clouds filtered the sun enough to clearly show its circular disk without it being too bright."
Contrary to mistaken reports of a Maya doom-prophecy, the sun came back up again today, Dec. 22nd, the first day of the 14th Bak'tun on the Maya Long Count Calendar and the first day of northern winter 2012.
Realtime Space Weather Photo Gallery
SOLAR SPACE TELESCOPE SEES EARTH: NASA's STEREO-B spacecraft can now see our home planet in its HI1 telescope. HI stands for "Heliospheric Imager." The telescope is designed to track gusts of solar wind and solar storms all the way from the sun to Earth. This image, captured on Dec. 17th, shows Earth and the edge of the sun's corona in a single snapshot: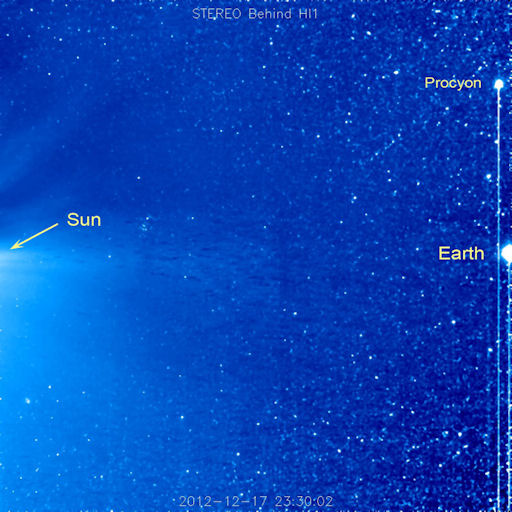 Earth is moving into the Heliospheric Imager's field of view because the twin STEREO probes are moving around the farside of the sun, which gives them a better view of the sun-Earth system: diagram. Soon Earth will be visible in STEREO-A's HI1 telescope and eventually in the coronagraphs as well.
The STEREO probes have two wider-field heliospheric imagers, too: HI2-A and HI2-B. Earth has been visible in the HI2 telescopes since launch in 2007, but this is the first time our planet has been visible in either of the HI1 telescopes, which can see regions of space closer to the sun. This development will give researchers a better view of solar storms engulfing Earth and could lead to improvements in space weather forecasting.
FARSIDE SOLAR ACTIVITY: The Earthside of the sun remains quiet, but the farside is growing restless. During the late hours of Dec. 20th and continuing through Dec. 21st, the Solar and Heliospheric Observatory (SOHO) has recorded a series of CMEs flying over the solar limb: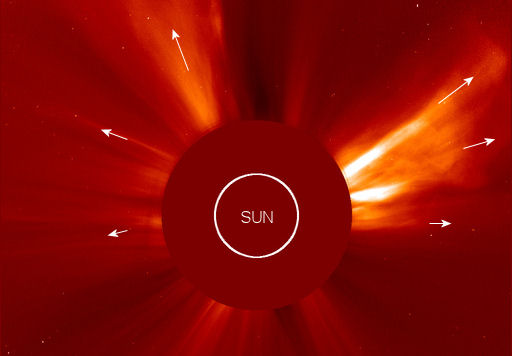 The source of the clouds appears to be multiple blast sites on the farside of the sun. This means Earth is not in the line of fire. The increasing pace of farside activity, however, suggests that the Earthside might not be far behind. Stay tuned for changes. Solar flare alerts: text, voice.
Realtime Space Weather Photo Gallery
---
---
Realtime Noctilucent Cloud Photo Gallery
[previous years: 2003, 2004, 2005, 2006, 2007, 2008, 2009, 2011]