| | | |
| --- | --- | --- |
| They came from outer space--and you can have one! Genuine meteorites are now on sale in the Space Weather Store. | | |
WATCH OUT MARS: A significant CME blasted off the sun today, Oct. 22nd, around 1100 UT. Analysts at the Goddard Space Weather Lab say the cloud is heading for Mars, due to hit the Red Planet on Oct. 26th. [CME: movie, forecast track]
WEEKEND METEOR SHOWER: Today Earth is passing throught a stream of debris from Halley's comet, source of the annual Orionid meteor shower. Forecasters expect the shower to peak on Saturday, Oct. 22nd, with ~15 to 20 meteors per hour. Meteor counts by international observers confirm that the shower is underway. The best time to look is during the hours before sunrise. If the sun is already up where you live, however, you can listen to the shower on SpaceWeather Radio.
Mark Staples of Waldo, Florida, woke at 3 am to see the show and he caught this bright Orionid shining through fog over Little Lake Santa Fe: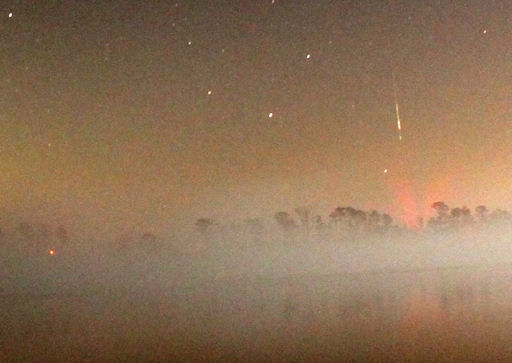 "I saw many Orionids despite the blanket of fog over the warm swamp," he says. "They were all over the sky. I managed to catch this one using a wide angle lens."
more photos: from Pete Lawrence of Selsey, West Sussex, UK; from Olivier Staiger of Crans-Montana in the Swiss Alps; from Brian Emfinger of Ozark, Arkansas, USA; from Monika Landy-Gyebnar of Veszprem, Hungary; from Antti Pietikäinen of Muonio, Lapland, Finland;
LAST-CHANCE SIGHTINGS OF ROSAT: The massive ROSAT X-ray space telescope is making its final spiralling orbits around Earth. Most experts agree that re-entry will occur during the early hours of Oct. 23rd over a still-unknown region of our planet. Meanwhile, the satellite can still be seen slicing brightly through the night sky. On Oct. 20th, Dennis Mammana photographed it from Borrego Springs, California: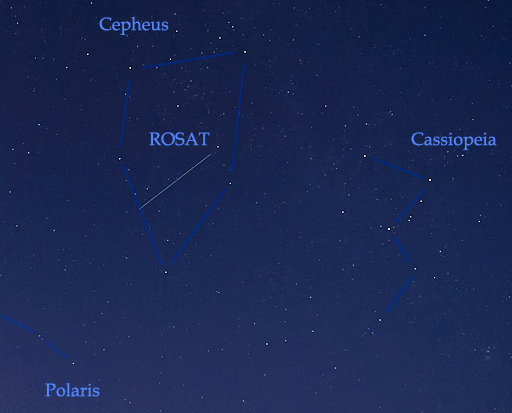 "Farewell ROSAT!" says Mammana. "The Röntgen Satellite moved quite fast as it made one its final visible passes over Southern California's Anza-Borrego Desert. I caught it on its way into Earth's shadow using a Nikon D700 digital camera."
Although Mammana noted that satellite was faint, others have seen it glowing more brightly than a first magnitude star. Derek Breit of Morgan Hill, California, witnessed a brilliant flare on Oct 18th, which he recorded in this 14 MB video. The increase in brightness was probably caused by sunlight glinting off one of ROSAT's flat surfaces.
Want to see ROSAT one last time? Check Spaceweather's Satellite Tracker for flyby times. You can also turn your smartphone into a field-tested ROSAT tracker.
According to the DLR (the German space agency), which operated the observatory while it was active in the 1990s, as many as 30 pieces of debris could reach Earth's surface. Of particular concern is the telescope's heat-resistant mirror assembly — 1.6 metric tons in all — which could hit the ground intact at hundreds of miles per hour. Odds favor an ocean splashdown or a land impact in sparsely inhabited wilderness.
ROSAT images: from David Harvey of Tucson, Arizona USA; from David Smoyer of Truckee, CA; from Jim Turney of Cold Springs Valley, Nevada, USA; from James Beauchamp of Oklahoma City, OK; from Thierry Legault of Paris, France; from Dewey Vanderhoff of Cody, Wyoming , USA; from Olivier Staiger of Crans-Montana Switzerland;