| | | |
| --- | --- | --- |
| Listen to radar echoes from satellites and meteors, live on listener-supported Space Weather Radio. | | |
MIDNIGHT ROCKET PLUMES: On Friday, March 23rd, between midnight and 3 am EDT, NASA plans a rapid-fire launch of five sounding rockets from the Wallops Flight Facility in Virginia. The rockets will deliver a chemical tracer to the upper reaches of Earth's atmosphere, forming milky white plumes that reveal high-speed winds at the edge of space. The display should be visible to the naked eye from coastal areas between South Carolina and New Jersey. [full story] [updates]
SPRING GREEN: Northern Lights continue to flicker around the Arctic Circle despite waning solar wind speeds. What's keeping them going? Answer: Equinoxes favor auroras. "I love March! We've seen auroras for four straight nights," says Einar Halvorsrud, who sends this picture from Alta, Norway: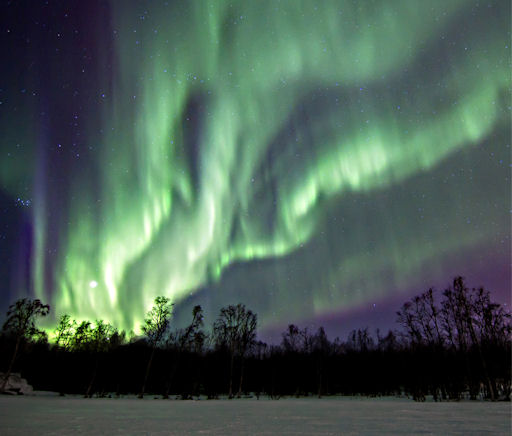 "This short explosion of lights on March 21st lasted for about 8 minutes," says Halvorsrud. "It was a beautiful sight with auroras all over the sky, in every direction."
NOAA forecasters estimate a 15% chance of polar geomagnetic storms on March 22nd. Considering the season, however, a full-fledged storm might not be necessary. Stay tuned for auroras. Aurora alerts: text, phone.
more images: from Bernt Olsen of Simavika, Tromsø, Norway; from Frank Olsen of Sommarøy / Tromsø, Norway; from Arild Heitmann of Tennevik River, Troms, Norway; from B.Art Braafhart of Salla, Finnish-Lapland; from Einar Halvorsrud of Alta, Norway; from Nenne Åman of Arjeplog, northern Sweden; from Andy Keen of Inari, Finland; from B.Art Braafhart of Salla, Finnish-Lapland; from Dirk Obudzinski of Snowshoe Creek, Alaska;
MARS AND THE SUPERNOVA: "On March 18th, I photographed the planet Mars among the galaxies of Leo," reports amateur astronomer Oscar Martín Mesonero of Salamanca, Spain. "The next morning, I learned that a supernova exploded in the galaxy M95. I quickly checked the photos and there it was!" (continued below)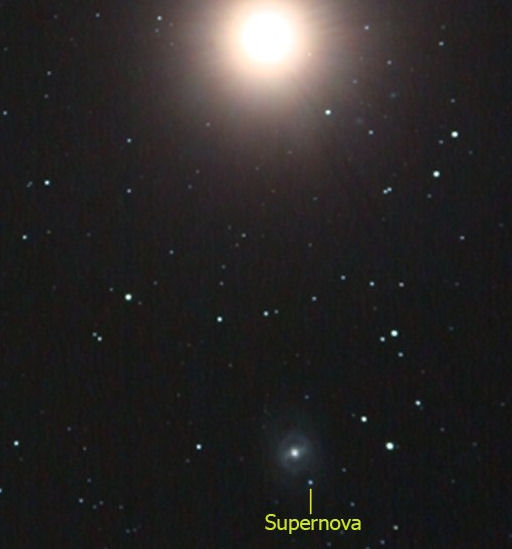 "Unwittingly, using my ED80, I had photographed a supernova of magnitude +13.5 only two days after its discovery," says Mesonero. "I never expected the night to bring so many wonderful things."
The rapidly brightening supernova is an easy target for mid-sized backyard telescopes equipped with CCD cameras--and it's easy to find only a degree south of Mars. Astrophotographers, now is your chance to catch a supernova in the act.
more images: from Martin Wagner of Sonnenbuehl-Genkingen, Germany; from Anthony Ayiomamitis of Athens, Greece; from Efrain Morales Rivera of Aguadilla, Puerto Rico; from Zlatan Merakov of Smolyan, Bulgaria; from Jeff Donaldson of Enfield, NS Canada;
---
February 2012 Aurora Gallery
[previous Februaries: 2011, 2010, 2009, 2008, 2007, 2006, 2004, 2003, 2002]