| | | |
| --- | --- | --- |
| Turn your cell phone into a field-tested satellite tracker. Works for Android and iPhone. | | |
SPACESHIP SIGHTINGS: The International Space Station (ISS) is flying over North America this week. It's visible after sunset as a streaking light brighter than Jupiter or Venus. Check the Simple Satellite Tracker for flyby times--and be alert for solar sails, too!
ISS flyby images: from Pete Lardizabal of St Johns, Florida; from Christopher Calubaquib of El Sobrante,California; from Kevin Palivec of Hawley, Texas;
NORTHERN LIGHTS: Blowing at 450 km/s, an unexpected solar wind stream hit Earth's magnetic field during the late hours of Feb. 21st. The impact did not spark a strong geomagnetic storm, but auroras appeared around the Arctic Circle anyway. Helge Mortensen sends this picture from Ersfjordbotn, just outside Tromsø, Norway: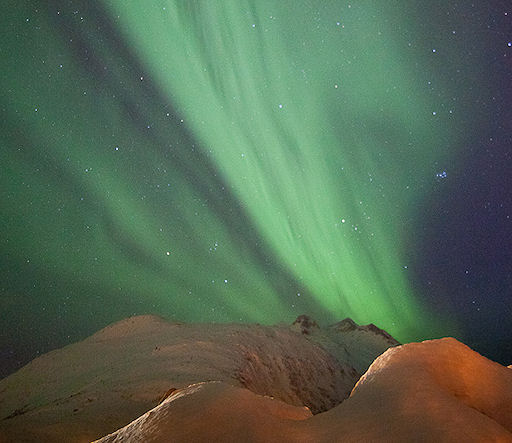 "I thought it was going to be just another boring night," says Mortensen. "Luckily I was wrong. We had a great show!" Browse the gallery for more scenes from last night.
UPDATED: February 2011 Aurora Photo Gallery
[previous Februaries: 2010, 2009, 2008, 2007, 2006, 2004, 2003, 2002]
FLICKERING SOLAR SAIL: NASA has joined forces with Spaceweather.com to stage a solar sail photography competition. Top prize: $500. Peter Rosen hasn't won yet, but with this movie of NanoSail-D, he has definitely entered the contest: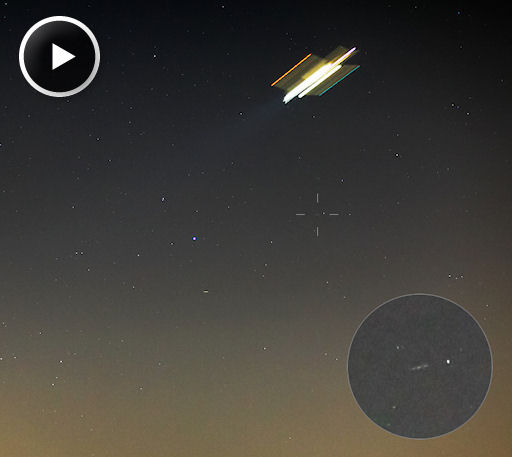 Photo details: Canon EOS 5D Mk II, 85/1.2 lens @ 1.2, 55 one-sec exposures at ISO 3200.
Not to be confused with the airliner at the top of the photo, NanoSail-D is the star-like object below denoted by a cross. Watch the movie again and note how the sail flickers in the inset circle.
Rosen describes what happened: "I photographed NanoSail-D from Stockholm, Sweden, on Feb. 4th. The sail was very low on the horizon, but I was able to catch it using my Canon EOS 5D digital camera. I estimate its magnitude between +6 and +7."
"There are many other satellites in the field of view and some airplanes coming in for landing at the local airport," he continues. "NanoSail-D behaves very differently from other satellites as its visibility seems to pulsate in short flashes sometimes several per second. This image zooms in on the phenomenon. I wonder if it due to small changes in the sail's direction and thus reflectivity?"
Indeed, sunlight is almost certainly glinting off the sail's reflective fabric. Researchers believe these flickers could, from time to time, develop into spectacular flares, outshining the brightest stars and perhaps even exceeding the luminosity of Iridium flares. At the moment, these flares are unpredictable because the sail's orientation is not known precisely enough to forecast sun-glints. The only way to catch one is to go outside and look.
NanoSail-D flyby times: on the web, on your cell phone.
NEW: NanoSail-D Photo Gallery
[NASA: Solar Sail Stunner] [Photo Contest]