SEVERE SPACE WEATHER: Did you know a solar flare can cause your toilet to stop working? That's one of the surprising conclusions of a NASA-funded study on the social and economic impacts of severe space weather. Get the full story from Science@NASA.
BIRTH OF A SUNSPOT: Two weeks ago, a sunspot was born. The event could not be seen from Earth because it happened over the sun's eastern horizon. Yet here is a snapshot of the birth: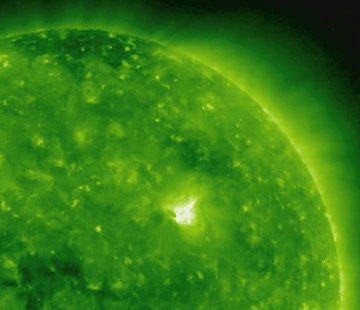 Click to launch a 6.8 MB mpeg movie
This trick, seeing over the sun's horizon, was accomplished by NASA's STEREO mission. STEREO consists of two identical spacecraft on nearly opposite sides of the sun. STEREO-A looks over the western horizon; STEREO-B looks over the east. STEREO-B photographed the emerging active region using its onboard ultraviolet telescope.
The sunspot was a member of new Solar Cycle 24; we know this because of its high latitude where new-cycle sunspots are always born. By the time the region rotated around to face Earth, it was fading away; no dark sunspot core was visible. Without STEREO, it might have escaped attention completely.
Solar Cycle 24 is slowly gaining strength. STEREO will allow greater scrutiny of this cycle than any other in the history of solar physics. Stay tuned for more births in the months ahead.
EXPLORE THE SUNSPOT CYCLE: Were you born under an active sun or a quiet sun? To find out, enter your birth date in the sunspot plotter:
The red curve traces monthly-averaged sunspot numbers tabulated by the Solar Influences Data Center in Belgium. Data points go all the way back to 1755, so you can investigate the relationship between solar activity and many historical events: Do stocks crash during solar minimum? Did NASA send astronauts to the Moon during Solar Max? How do sunspots affect the length of mini-skirts? If you find any interesting coincidences, be sure to tell the webmaster.
Permanent Link: Sunspot Plotter
---