FOOTBALL-SHAPED PLANET: The International Astronomical Union (IAU) has just named the solar system's fifth dwarf planet, Haumea, after the Hawaiian goddess of childbirth and fertility. Located just beyond Pluto, Haumea spins so rapidly that it has been elongated like a football approximately 2200 km long. The strange planet has two moons, Hi'iaka and Namaka: IAU press release.
SOLAR ACTIVITY: By the standard of sunspot counts, solar activity is low. Maybe there should be another standard: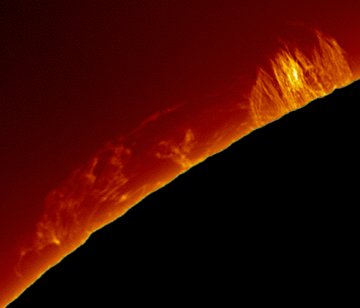 "The face of the sun was pretty bare today, but the limb was a different story. There was a really big prominence," says Larry Alvarez of Flower Mound, Texas. "It looked like a raging 'wire of fire.' I took the picture using my Coronado 90mm solar filter and a homemade ccd camera."
By the standard of prominences, it turns out, the sun is pretty active. Grab a solar telescope and take a look!
SIGHTINGS: This evening in France, the International Space Station (ISS) split Jupiter right down the middle: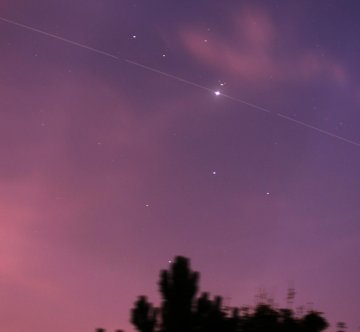 "The ISS flew through the constellation Sagittarius and directly in front of Jupiter. It was a beautiful sight," says photographer Patrice Arnaudet of Val d'oise, France. "I stitched together three photos taken using my Canon 350D. That's why there are tiny gaps in the flight path of the ISS," she explains.
The space station is making a series of passes over Europe and North America in the nights ahead. It's amazingly easy to see. Check the Satellite Tracker for viewing times.
more images: from Matthew Cook of Ann Arbor, Michigan; from Phillip Chee of South Monaghan, Ontario, Canada; from Joe Ricci of Rochester, New York; from Bill Gucfa of Rehoboth, Massachusetts; from David McKune of Lansing, Kansas;
---
Sept. 2008 Aurora Gallery
[Aurora Alerts] [Night Sky Cameras]