| | | |
| --- | --- | --- |
| iPHONE VS ANDROID! Actually, it doesn't matter which phone you carry. Our cool, new app turns both smartphones into field-tested satellite trackers. Learn more. | | |
JACK HORKHEIMER (1938-2010): Jack Horkheimer, Public Television's "Star Gazer" and the director of Miami's Space Transit Planetarium,' died Friday, August 20th, at the age of 72. Jack was a giant of astronomy outreach, bringing the heavens down to Earth for millions of people from all walks of life. Among them was the author of this web page as a young student in Florida so many years ago. Jack's loss is keenly felt. Farewell, Jack Horkheimer, and "keep looking up!"
SPACE STATION AURORAS: On August 13th a minor solar wind stream hit Earth's magnetic field. The impact did not trigger widespread displays of auroras on Earth, but the view from orbit was sublime: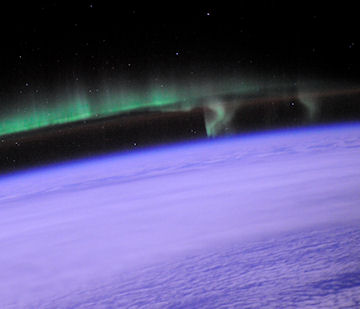 NASA astronaut Doug Wheelock took the picture from the International Space Station (ISS) and quickly tweeted it down to Earth, captioned by lyrics from the Don McLean ballad "Vincent" (a.k.a. "Starry Starry Night"). Note how the planet directly below the auroras is partially sunlit. The auroras are nevertheless visible against the black, starry backdrop beyond the planet's limb. The ISS is a nice place for sky watching.
Another solar wind stream is heading for Earth, due to arrive on August 24th (see "Coronal Hole," below). Stay tuned to Wheelock's twitter feed for more aurora sightings from space.
UPDATED: August 2010 Northern Lights Gallery
[previous Augusts: 2009, 2008, 2007, 2006, 2005, 2004, 2003]
CORONAL HOLE: A coronal hole on the sun is turning to face Earth. Coronal holes are places in the sun's atmosphere where the magnetic field opens up and allows solar wind to escape. Here is a magnetic map of the hole from NASA's Solar Dynamics Observatory: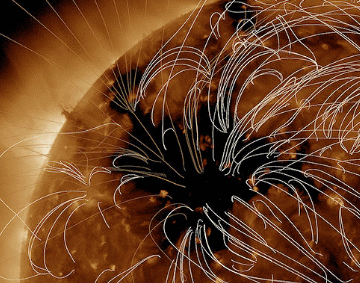 Image credit: Karel Schrijver, Lockheed Martin SAL
In the image, magnetic field lines are color-coded. White field lines are closed; they hold the solar wind in. Golden-brown field lines are open; they allow the solar wind out.
A stream of solar wind flowing from this coronal hole is expected to reach Earth on August 24th or 25th. High-latitude sky watchers should be alert for auroras when it arrives.
---
2010 Perseid Photo Gallery
[meteor radar] [Perseid fireball cam]