| | | |
| --- | --- | --- |
| Metallic photos of the sun by renowned photographer Greg Piepol bring together the best of art and science. Buy one or a whole set. They make a stellar gift. | | |
JUPITER-MOON CONJUNCTION--TONIGHT! When the sun goes down tonight, step outside and look east. The Moon and Jupiter are shining through the twilight side by side. Most sky watchers will see the two bright bodies just a fraction of a degree apart. Observers in parts of South America will witness an even closer encounter--an occultation, in which the Moon passes directly in front of Jupiter. [Sky map]
Just hours ago, P-M Hedén and his children watched the pair converging over Vallentuna, Sweden: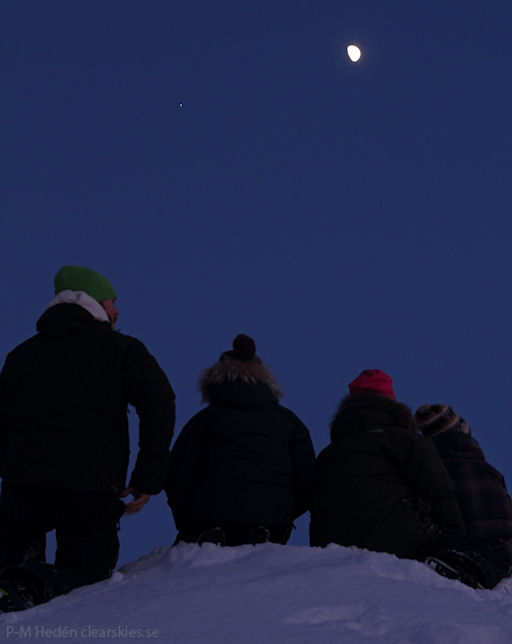 "It was a very nice sight, indeed," says Heden, who snapped the photo at the prettiest moment of the day, when the the conjunction was framed by twilight-blue. Stay tuned to the photo gallery for updates from around the world.
Realtime Conjunction Photo Gallery
NORTHERN LIGHTS: A CME hit Earth's magnetic field during the late hours of Jan. 19th, producing Northern Lights so bright, they woke up the Arctic fox: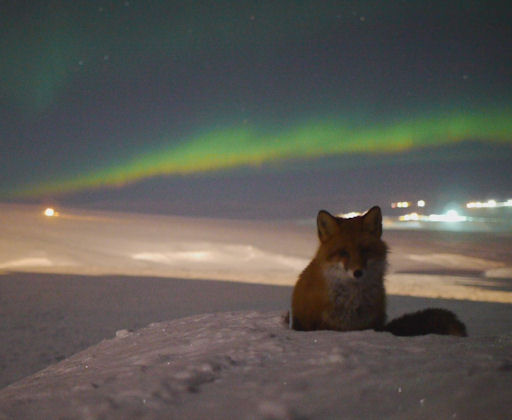 Vladimir Scheglov sends the picture from the Kupol mine in the Chukotka region of Russia. "The Kupol mine has banned hunting, so wild animals are not afraid of people," he explains.
More lights are possible on Jan. 23th when a negative-polarity solar wind stream is expected to hit Earth's magnetic field. NOAA forecasters estimate a 20% chance of polar geomagnetic storms when the stream arrives. Aurora alerts: text, voice.
COMET OF THE CENTURY? Later this year, Comet ISON could become bright enough to see in broad daylight when it passes through the atmosphere of the sun. At the moment, however, it is a cold and lonely speck barely visible through backyard telescopes. On Jan. 16th, Pete Lawrence of Selsey, UK, photographed the potentially-great comet moving through space near the orbit of Jupiter: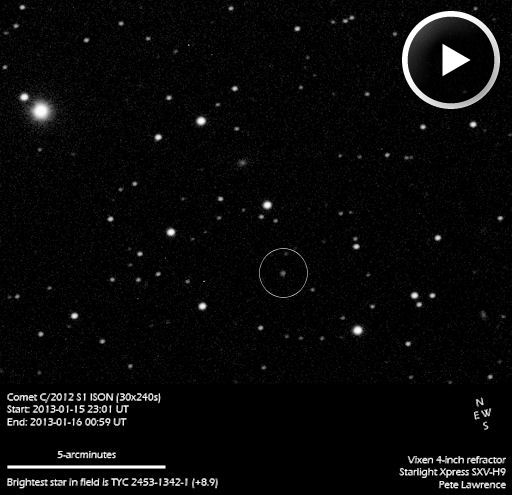 "I created the animation using images taken through a 4-inch refractor, starting at 23h on the 15th of January and ending at 01h on the 16th," says Lawrence. "The comet is clearly visible moving among the stars of Gemini, in an area just to the south of Castor."
Comet ISON looks so puny now because it is more than 600 million km away. In late 2013, however, it will be much closer. A key date is Nov. 28th when Comet ISON flies through the solar corona only 1.2 million km from the surface of the sun. If the comet survives the encounter--a big IF--it could emerge glowing as brightly as the Moon with a sensational tail sure to create a worldwide sensation. Stay tuned!
---
Realtime Space Weather Photo Gallery
---
Realtime Noctilucent Cloud Photo Gallery
[previous years: 2003, 2004, 2005, 2006, 2007, 2008, 2009, 2011]