| | | |
| --- | --- | --- |
| FLYBY ALERT! Space shuttle Discovery launches on May 31st. Get your flyby alerts from Space Weather PHONE | | |

ISS MARATHON: The 2008 "ISS Marathon" gets underway this week when the International Space Station spends three days (May 21-23) in almost-constant sunlight. Sky watchers in Europe and North America can see the bright spaceship gliding overhead two to four times each night. Please try our new and improved Simple Satellite Tracker to find out when to look.
POLLEN MOON: Veteran astrophotographer P-M Hedén of Vallentuna, Sweden, has seen a lot of things in the night sky, but last night offered something new. "Wow!" he says. "I've never seen a Moon halo like this before."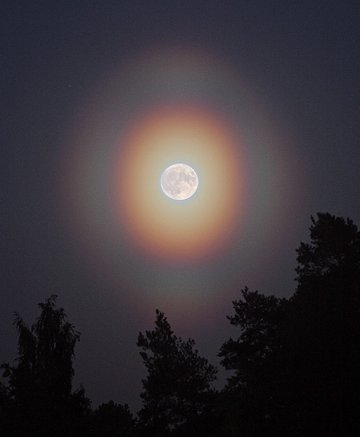 Photo details: Canon 450D, 75-300mm Carl Zeiss lens
Soft colors. Elliptical rings. A dark Scandinavian forest. It all adds up to a special type of halo called a "pollen corona." Each year, trees of the Northern forests release copious clouds of pollen. These airborne allergens not only make you sneeze, but also they diffract light, producing colorful rings around the sun and Moon. Because pollen particles are non-spherical, the coronas they make are elongated, sometimes with bright patches on their rings. "It was really beautiful," says Hedén.
more images: from Gote Flodqvist of Karolinska University Hospital, Campus Solna, Sweden; from Jan Plachý of the Czech Republic
S IS FOR... space weather? "Today, the sun seems to be paying tribute to SpaceWeather.com," reports Pete Lawrence who sends this picture from his backyard observatory in Selsey, UK: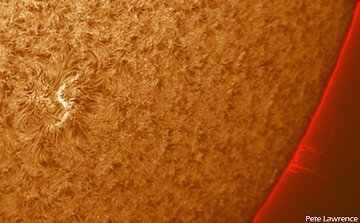 Not really. The S is a swirl of bright magnetic froth around sunspot 996; any advertisement is purely coincidental. Instead, Spaceweather.com pays tribute to the sun, which puts on a good show even at the lowest ebb of the sunspot cycle. If you have a solar telescope, take a look.
more images: from R. Purington and J. Stetson of South Portland, Maine; from Mike Strieber of Las Vegas, Nevada; from R. Purington, M. Ouellette and J. Stetson of South Portland, Maine;
---
April 2008 Aurora Gallery
[Aurora Alerts] [Night-sky Cameras]