MORNING SPACECRAFT: The International Space Station (ISS) is about to perform a series of early-morning flybys over North America. The recently-expanded station is even brighter than the planet Venus and it looks marvelous gliding silently through the rosy glow of dawn. Check the Simple Satellite Tracker for viewing times.
MORNING PLANETS: The ISS is not alone. The Moon, Venus, Mars and Jupiter are also up at dawn: sky map. Photographer Liz Gleeson sends this picture of Venus and Mars rising over Magnetic Island in North Queensland, Australia on April 18th: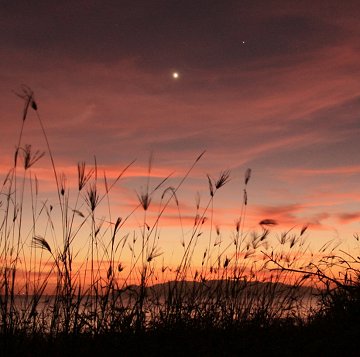 "Venus was so bright, it was visible through clouds," she says. "To take the picture I used a Canon 450D set at ISO 400 for four seconds."
Readers, keep an eye on Venus this week. The crescent Moon is converging on the planet for a spectacular close encounter at dawn on Wednesday, April 22nd. Viewed from western parts of North America, the Moon will actually eclipse Venus. The event begins just after 5 am Pacific Daylight Time. Science@NASA has the full story.
morning sky maps: April 20, 21, 22.
MORNING METEORS: Earth is entering a stream of dusty debris from Comet Thatcher, source of the annual Lyrid meteor shower. Forecasters expect the shower to peak during the dark hours before dawn on Wednesday, April 22nd, when observers should count 10 to 20 meteors per hour: more information.
Got clouds? No problem. If you can't see the shower, you can listen to it on Space Weather Radio. We are streaming live signals from the Air Force Space Surveillance Radar in Texas. Whenever a meteor passes overhead--ping!--there is an echo. The Lyrids should produce a surge of activity on April 22nd.
On April 2nd, ham radio operator Stan Nelson of Roswell, New Mexico, was listening to the radar's signals when the International Space Station and a meteor passed through the beam in quick succession. Click on the dynamic spectrum to listen: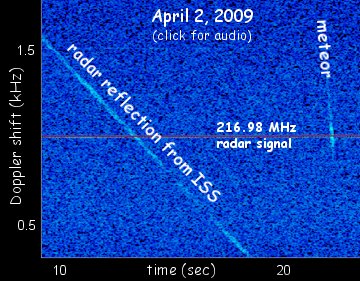 audio: with noise reduction | w/o noise reduction
The slowly descending tone at the beginning of the soundtrack is the radar's doppler-shifted reflection from the ISS. It sounds like the whistle of a train racing past a stationary bystander. Indeed, the basic physics of the doppler shift is the same in both cases.
The rapidly descending tone near the end of the soundtrack is the radar's doppler-shifted reflection from a meteor. Because meteors travel through space some two to ten times faster than Earth-orbiting spacecraft, their radar reflections are much more sharply doppler shifted.
On April 22nd you might hear both kinds of reflections as Lyrid meteors and various Earth-orbiting satellites pass over the radar facility. Tune in!
---
April 2009 Aurora Gallery
[previous Aprils: 2008, 2007, 2006, 2005, 2004, 2003, 2002]
---