| | | |
| --- | --- | --- |
| ANDROID FLYBYS: Our field-tested satellite tracker is now available for Android phones. Features: Global predictions and flyby alarms! Learn more. | | |
NEW SUNSPOT: A new sunspot is emerging over the sun's southeastern limb, and it could be a big one. Click here and here for first-look images.
NOCTILUCENT CLOUDS: "An amazing display ... bright and beautiful ... like a dolphin playing in electric-blue waves..." These are a few of the things sky watchers are saying about the noctilucent clouds drifting over Europe. It's an ongoing display. If you live at high latitudes, in Europe or elsewhere, be alert for these mysterous clouds after dark.
FIERY TRANSIT: For a split second yesterday, the sunspot number sunspot increased .... by 6 astronauts and 815,520 lb of laboratories, habitats, and solar arrays. "It was a solar transit of the International Space Station," says Thierry Legault who photographed the event from Rambouillet, France: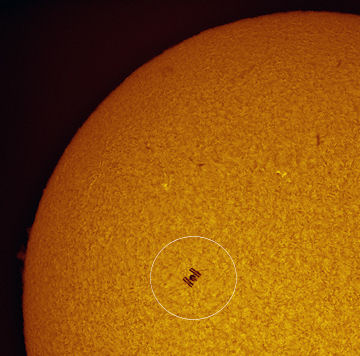 "I used Calsky to predict the transit," he continues. "It was right on time." The ISS was moving fast; orbiting Earth at 17,000 mph, it crossed the face of the sun in only 0.5 seconds. He caught the passage using a digital video camera attached to a solar-filtered 6-inch telescope. And that's not all: "In addition to the ISS, there were several prominences, decaying sunspot 1087, and a new eruptive area coming into view over the sun's southeastern limb." Click here for the complete picture.
more images: from Jérôme Delpau of Le Mans, Sarthe, France
DOUBLE-LONG SOLAR ECLIPSE: For most observers, the South Pacific eclipse of July 11th lasted about four minutes--the time required for the Moon's shadow to sweep across any single point on Earth's surface. University of Arizona astronomer Glenn Schneider wasn't satisfied with such a short time, however, so he chartered a plane to chase the Moon's shadow. (continued below)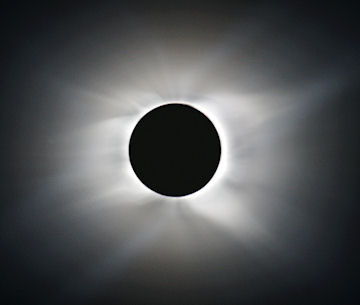 Above: a quick-look composite of images from Schneider's flight
"Flying at 39,000 feet along the path of totality, we managed to extend the eclipse to 9 minutes 23 seconds" says Schneider. The extra time allowed his team to take more and deeper images, revealing details of the sun's corona that ground-based expeditions might have missed. "We're analyzing the data now."
UPDATED: Solar Eclipse Photo Gallery
[NASA: South Pacific Eclipse] [animated map] [details]