EARTH-DIRECTED ERUPTION: On Saturday, Oct. 17th, starting around 18:24 UT, a spotless active region in the sun's southern hemisphere erupted, hurling a faint coronal mass ejection (CME) in the general direction of Earth. SOHO's extreme UV telescope recorded this movie of the blast. High-latitude sky watchers should be alert for auroras on Oct. 19th or 20th when the CME arrives.
LUNAR IMPACT PLUME: There was a plume after all. Observers on Earth had their doubts after LCROSS and its Centaur booster rocket hit the Moon on Friday, Oct. 9th. The twin lunar impacts failed to produce visible plumes of debris, prompting speculation that something had gone wrong. On the contrary, members of the LCROSS science team are now calling the experiment "a smashing success."
Fifteen seconds after the Centaur hit the shadowy floor of crater Cabeus, the LCROSS spacecraft flying 600 km overhead took the following picture of a plume measuring 6 to 8 km wide: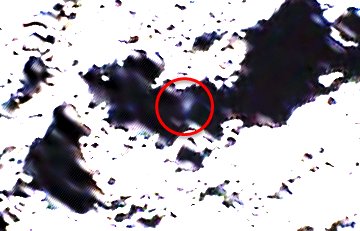 "There is a clear indication of a plume of vapor and fine debris," says LCROSS principal investigator Tony Colaprete of NASA/Ames. "The ejecta brightness appears to be at the low end of our predictions and this may be a clue to the properties of the material the Centaur hit."
Nine cameras and spectrometers on LCROSS captured every phase of the Centaur's impact: the intial flash, the debris plume, and the creation of the Centaur's crater. "We are blown away by the data returned," says Colaprete. "The team is working hard on the analysis and the data appear to be of very high quality."
But did the impact reveal any water at the bottom of Cabeus? The LCROSS team isn't ready to say yet. Combining their data with those of other observatories and analyzing the full dataset could take weeks. According to NASA, "any new information will undergo the normal scientific review process and will be released as soon as it is available."
For more information, read NASA's Oct. 16th press release and browse the gallery of images.
MORNING PLANETS IN MOTION: On Friday morning in Bretagne, France, photographer Laurent Laveder woke before dawn to watch Venus, Saturn and the Moon rise together over a local marina. "I made a 50-minute, 22-megabyte movie of the event," he says. Click on the image to set the scene in motion (DivX required):
"The show was cut short by the arrival of the clouds, but it was great anyway!" he says. Challenge: Watch the movie again and find the blue heron. It's asleep on one of the boats.
more images: from Miguel Claro of Cacilhas, Almada, Portugal; from Azhy Chato Hasan of Erbil city, Kurdistan Region, Iraq; from Marco Meniero of Roma, Italy; from Mohammad Mehdi Asgari of Arak, Iran; from Mark Staples of Little Lake Santa Fe, Waldo, FL; from James W. Young near San Bernardino, CA; from Mohammad Javad Fahimi at the Jabaliyeh Dome in Kerman, Iran; from Todd Carlson of Burk's Falls, Ontario, Canada; from Antonio Finazzi of Chiuduno, Bergamo - Italy; from Jens Hackmann of Weikersheim, southern Germany
---
Sept. 2009 Aurora Gallery
[previous Septembers: 2008, 2007, 2006, 2005, 2004, 2002, 2001]
---