| | | |
| --- | --- | --- |
| Metallic photos of the sun by renowned photographer Greg Piepol bring together the best of art and science. Buy one or a whole set. They make a stellar gift. | | |
HOT FATHER'S DAY GIFT: The solar super-explosion of June 7, 2011, has been turned into a unique metallic wall hanging guaranteed to please the Dad who has everything. Take a look.
HOW'S THE WEATHER? "Lately, the Sun has been behaving a bit strangely," declare Lika Guhathakurtha (NASA) and Dan Baker (U. Colorado) on the opinions page of yesterday's New York Times. In 2008-2009, solar activity plunged to a hundred-year low; and now that the sun is waking up again, no one is able to predict what will happen next. "Will solar activity continue to be sluggish, or will solar storms return with pent-up vigor?" they ask. Good question! Read the full editorial here.
LIGHT BRIDGE: The primary core of sunspot 1236 is divided by a brilliant canyon of light--also known as a "light bridge"--measuring some 20,000 km from end to end. Amateur astronomer Howard Eskildsen photographed the phenomenon from his backyard observatory in Ocala, Florida. Follow the arrow: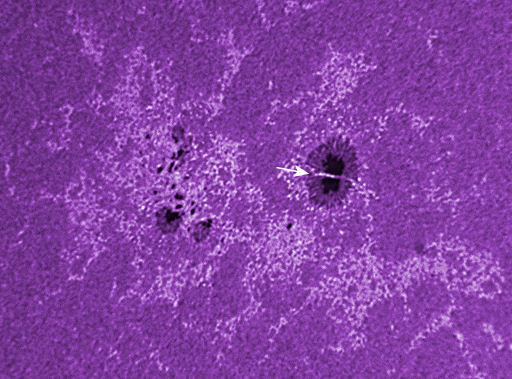 "I used a violet Calcium-K filter, which highlights the bright magnetic froth around the sunspot group as well as the light bridge cutting the main 'spot in two," explains Eskildsen. "Seeing was excellent."
The nature of light bridges is not fully understood. They often herald the break-up of a sunspot. Some research suggests that magnetic fields at the base of a light bridge are busy cross-crossing and reconnecting--the same explosive process that sparks solar flares. Does this mean the primary core of sunspot 1236 will explode? Or quietly fall apart? No one can say. Readers with solar telescopes are encouraged to monitor developments.
LUNAR ECLIPSE: On Wednesday night, June 15th, sky watchers in Africa, Asia, South America, Australia, Antarctica and Europe witnessed the longest lunar eclipse in nearly 11 years. Only North America was excluded as Earth's shadow engulfed the full Moon for a whopping 100 minutes. At maximum eclipse, the lunar surface turned a beautiful shade of red: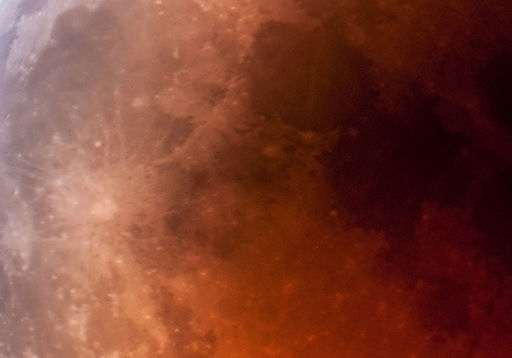 Riccardo 'Rikyunreal' Rossi sends the picture from La Veggia, Italy. "It was such a long and beautiful eclipse," he says.
Why does the Moon turn red during an eclipse? To understand why, take an imaginary trip to the Moon. There you are, standing on moondust, looking back at your home planet. The eclipse is underway: Earth is blocking the sun and the nightside of Earth is facing the Moon. You might expect Earth to be utterly dark, but it's not. The rim of the planet is on fire! As you scan your eye around Earth's circumference, you're seeing every sunrise and every sunset in the world, all of them, all at once. This incredible light beams into the heart of Earth's shadow, filling it with a coppery glow and transforming the Moon into a great red orb.
Browse the gallery for more ruddy moondust.
UPDATED: June 15th Lunar Eclipse Gallery
---
June 2011 Aurora Gallery
[Aurora alerts: text, voice] [previous Junes: 2010, 2008, 2001]
---
Midnight Solar Eclipse Gallery
[NASA: A Rare Eclipse of the Midnight Sun]