| | | |
| --- | --- | --- |
| NEW AND IMPROVED: Turn your iPhone or iPod Touch into a field-tested global satellite tracker. The Satellite Flybys app now works in all countries. | | |
AURORA WATCH: High-latitude sky watchers should be alert for auroras on May 20th. That's when a solar wind stream is due to hit Earth, possibly sparking geomagnetic storms. [gallery]
SOLAR FILAMENT: A long, dark magnetic filament is snaking over the sun's northeastern limb today, providing some relief to an otherwise blank solar disk. Pete Lawrence sends this picture from his backyard observatory in Selsey, UK:
Unlike many filaments, which soar up high in lovely arch- and twister-shapes, this one seems to be hugging the stellar surface. That doesn't mean the region is uninteresting, though. NASA's Solar Dynamics Observatory has been recording plenty of activity in the filament's vicinity: movie. Readers with solar telescopes are encouraged to monitor developments.
more images: from Jo Dahlmans of the Netherlands; from Ingmar Glass of München, Germany; from Stephen Yeathermon of Santa Fe, Texas; from Matt Wastell of Paddington, Brisbane, Australia;
LIGHTNING BUGS AND SPACESHIPS: "Last night I witnessed a great pass of the ISS and Atlantis," reports Brian Emfinger of Ozark, Arkansas. "The docked spacecraft passed just a sliver below Venus and then passed by the Moon. I stacked 20 individual images to create this image."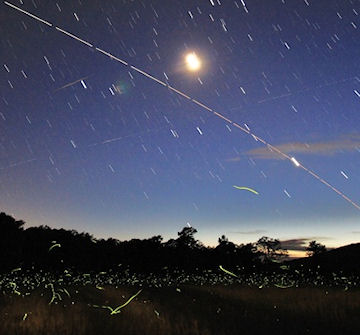 "There were plenty of lightning bugs, too!" he adds. "It was a great night to be sandwiched between heavens and Earth."
Meanwhile, onboard the ISS, astronauts completed a seven hour, 25 minute spacewalk on Monday, installing a new space-to-ground antenna for improved two-way video communications and adding a new tool kit to the station's exoskeleton for the station's Dextre robot. Two more spacewalks are planned this week--as well as many more firefly-flybys. Check the Simple Satellite Tracker (or check your iPhone) for bright passes over your hometown.
---
May 2010 Aurora Gallery
[previous Mays: 2008, 2005, 2004, 2003, 2002] [aurora alerts]