| | | |
| --- | --- | --- |
| Hang the Transit of Venus on your wall! Hubble-quality images from NASA's Solar Dynamics Observatory are now available as metallic posters in the Space Weather Store. | | |
SLOW EXPLOSION: Sunspot complex AR1520-1521 erupted on July 17th at 1715 UT. The M1-class explosion unfolded slowly over a period of hours. Slow explosions often produce CMEs, and this one was no exception; SOHO recorded the bright and massive cloud: movie. Update: According to a forecast track prepared by analysts at the Goddard Space Weather Lab, the CME will hit Venus on July 19th and could deliver a glancing blow to Earth on July 20th. Aurora alerts: text, voice.
ELECTRIC AURORAS: Earth's magnetic field is still reverberating from the CME strike of July 14th. This morning, July 17th, at 1:00 am CDT, Shawn Malone witnessed one of the aftershocks over Lake Superior: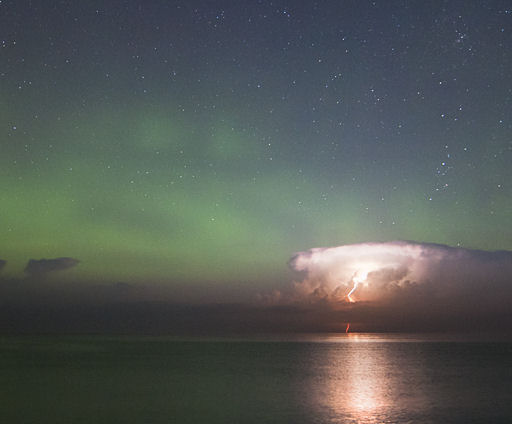 "My dog hates lightning and awoke me at 1am," says Malone. "I caught a double light show: an isolated thunderstorm moving across Lake Superior plus the bright glow of the Northern Lights above the clouds, awesome!"
The odds of more auroras tonight are low as the geomagnetic field continues to settle down. During the peak of the display on July 14th through 16th, Northern Lights appeared in the United States as far south as Oregon, California, Colorado, Missouri, Utah, Wisconsin, Iowa, Minnesota, Wyoming, Washington, Illinois, Kansas, South Dakota, Nebraska, Michigan and Arkansas. Visit our aurora gallery for a complete set of images:
NOCTILUCENT CLOUDS IN MOTION: "Last night some nice noctilucent clouds appeared over Stockholm," reports Swedish photographer Peter Rosen. "Watching NLCs this summer has made me take an interest in their intricate movements--so I decided to create some close-up timelapse movies using a telephoto lens." Click on the image to set the scene in motion: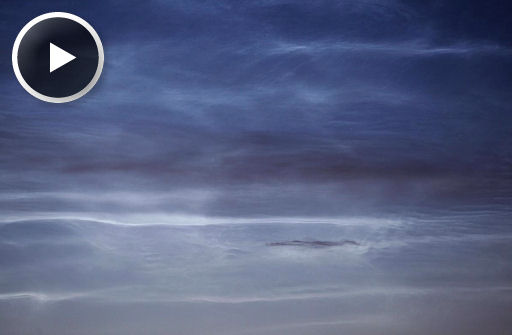 "What looked like a serene view from a distance behaves more like a stormy sea with wave after wave rolling in," he observes.
When NLCs first appeared in the 19th century, the mysterious clouds were confined to the Arctic, most often seen in the same places as Northern Lights. In recent years, however, their "habitat" has been expanding, rippling as far south as Colorado, Virginia, Kansas, and Utah. There is growing evidence that the expansion is a sign of climate change, although this remains controversial.
Whatever the reason for the expansion, it means the "stormy sea" could be coming to a sky near you. Observing tips: Look west 30 to 60 minutes after sunset when the sun has dipped 6o to 16o below the horizon. If you see electric-blue waves spreading across the sky, you've probably spotted a noctilucent cloud.
Realtime Noctilucent Cloud Photo Gallery
[previous years: 2003, 2004, 2005, 2006, 2007, 2008, 2009, 2011]
---