| | | |
| --- | --- | --- |
| Turn your cell phone into a field-tested satellite tracker. Works for Android and iPhone. | | |
LEONID METEORS: According to forecaster Jérémie Vaubaillon, Earth might pass through a filament of dust from Comet Tempel-Tuttle around 22h36m UT on November 16. The encounter could produce a brief flurry of Leonid meteors. If it's dark where you live, keep an eye on the sky. Otherwise, tune in to the meteor radar for possible echoes.
DOUBLE FLYBY ALERT: China's new space station, the Tiangong 1, is making a series of evening flybys over the United States this week. Sky watchers who go out to see it might spot a second spacecraft. The unmanned Shenzhou 8 probe is traveling alongside Tiangong 1 as it concludes maneuvers designed to test the craft's rendevous and docking capabilities. Check the Satellite Tracker or your smartphone for local flyby times.
On Nov. 14th, David Blanchard watched the docked spacecraft glide past the Andromeda galaxy in the crystal-clear skies of Flagstaff, Arizona: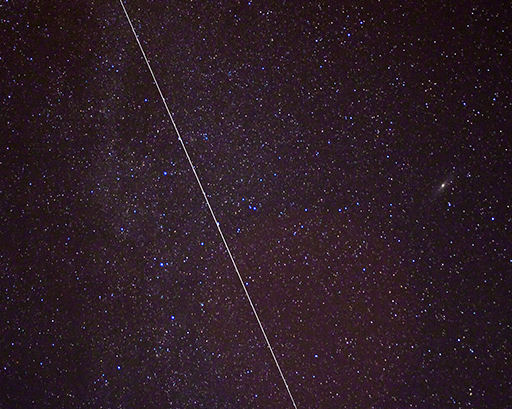 "The Tiangong-1 Space Station zipped brighly across the sky, then swiftly faded away as it entered Earth's shadow," says
Hours later the streak of light split in two when the Shenzhou 8 undocked. The window for double-sightings may be closing, however. Controllers at the Beijing Aerospace Control Center plan to command the Shenzhou 8 to re-enter Earth's atmosphere during the late hours of Nov. 17th. If all goes as planned, a re-entry capsule will be recovered from a landing site most likely in Inner Mongolia.
SOLAR BLAST: A magnetic prominence dancing along the sun's southeastern limb became unstable on Nov. 15th and slowly erupted. NASA's Solar Dynamics Observatory recorded the event, which unfolded over a period of thirteen hours: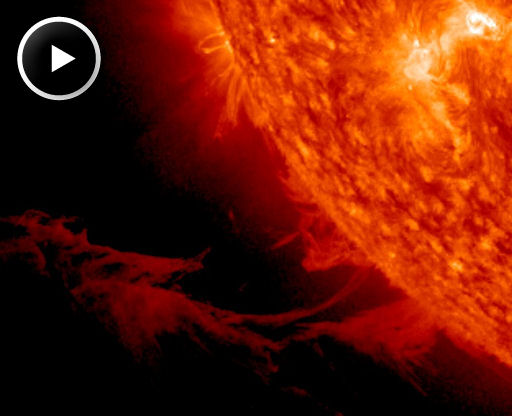 The eruption hurled a cloud of plasma (CME) toward Venus. According to a forecast track created by analysts at the Goddard Space Weather Lab, the cloud should reach the second planet on Nov. 17th. Venus has no global magnetic field to protect it from CMEs. The impact will likely strip a small amount of atmosphere from the planet's cloudtops. Solar flare alerts: text, phone
more images: from Lyrics Some of Panyu, Guangzhou, China.; from Karzaman Ahmad of Langkawi National Observatory, Malaysia; from Chin Wei Loon of Solar Observatory, University of Malaya, Malaysia.
ASTEROID PARALLAX: "On November 9th, asteroid 2005 YU55 passed so close to Earth that viewers at separate locations saw the interloper appear in slightly different spots against the background star field," says amateur astronomer Mike Harms of San Francisco. To illustrate this parallax effect, he combined his own observations with those of Dennis di Cicco across the country in Boston: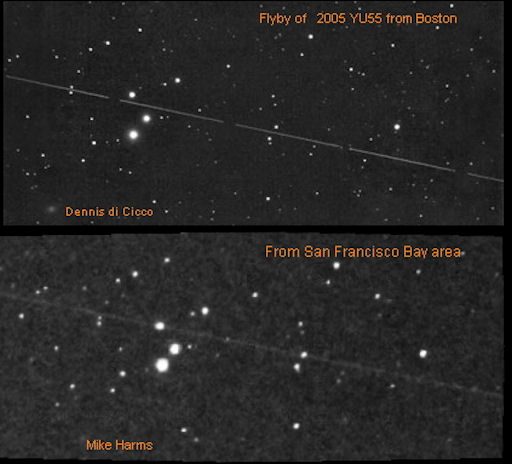 At the time of the flyby, the 400m-wide space rock was only 324,600 kilometers away, about 85% the distance from Earth to the Moon. This allowed amateur and professional astronomers alike to study the asteroid in unprecedented detail.
In Australia, where the Boston vs. Brisbane parallax effect was even greater, Dennis Simmons video-recorded the flyby: "It was quite sobering to be able to view the almost full Moon some 20 degrees away, knowing that this lump of rock was now nearer to me than our Moon," he says. "I was astonished at how bright the NEO appeared, having read that results from the Arecibo radar indicated it to be a very dark, nearly spherical object some 400 meters in diameter."
more images: from Conrad Jung of Oakland, California; from Libor Vyskocil of Observatory Upice, Czech Republic; from Rolando Ligustri of Talmassons (Italy); from William Wiethoff of Port Wing, Wisconsin; from Marco Langbroek of Markleeberg, California