| | | |
| --- | --- | --- |
| Turn your cell phone into a field-tested satellite tracker. Works for Android and iPhone. | | |
LIVE FROM THE MOON: As the Moon waxes full this weekend, AstronomyLive.com is broadcasting live views of lunar terrain from telescopes in Europe and North America. Tune in for a lunar tour, or become a broadcaster yourself.
SUNSPOT SUNSET: The face of the sun is dotted with active regions. Andrew Chan of Manila, the Philippines, 'spotted' three of them at sunset on April 15th: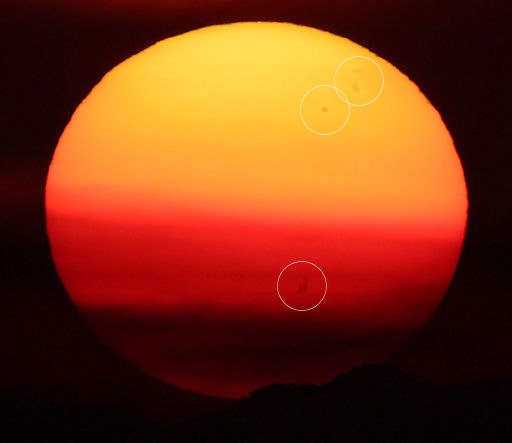 Circled above, from top to bottom, are sunspots 1193, 1191 and 1190. All three showed up clearly when the low sun was dimmed by thick hazy air.
"I was driving home from work," says Chan, "and I could tell that a perfect sunset was imminent. I drove fast, arriving home just in time to grab my camera and dash toward our rooftop observatory. The sun quickly waved goodbye for the day...but not before I captured this image."
Chan didn't bother fixing a filter to his camera because Earth's atmosphere had already reduced the glare. Nevertheless, solar filters are strongly recommended for sunspot photography. Even a low sun can damage your eyes when viewed through optics. Safe and affordable sunspot observing systems are available from the Space Weather Store.
more sunsets: from Adrian Scott of Sutton, London, UK; from Bruno Nolf of Ieper- Astrolab Iris, Belgium
M-FLARE: The magnetic canopy of sunspot 1190 erupted on April 15th, producing an M-class solar flare (SDO movie). The brief blast did not, however, hurl a cloud of plasma toward Earth. NOAA forecasters estimate a 55% chance of more M-flares during the next 24 hours.
STRING OF PEARLS: No, it's not a fleet of alien spacecraft. Nor is it a disintegrating comet, although the resemblence to Shoemaker-Levy 9 is striking. What could it be? Play the video, make your best guess, then scroll down for the answer.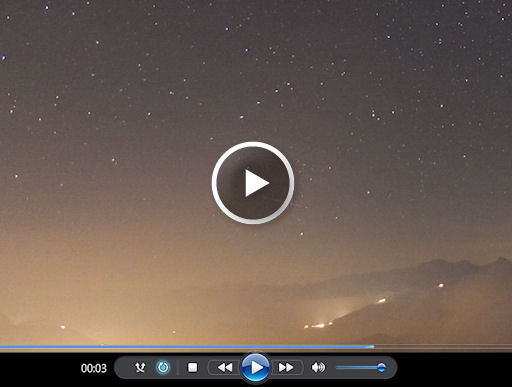 What you just saw was sunlight glinting off a line of ten geosynchronous satellites stretched over Rigikulm, Switzerland, on March 5th. One by one, the illuminated satellites flare and then subside as they enter the shadow of our planet.
"The 'string of pearls' phenomenon is best seen during early-spring nights when the declination of the sun is equal to that of the geosychronous orbit, e.g. -7o as measured from Switzerland," says photographer Roland Stalder. "This short video sequence (130 images at 25 fps) is part of an all-night timelapse with 1630 images, where over 50 geosynchronous satellite flares can be found. A FullHD BlueRay disk can be ordered though me."
---
April 2011 Aurora Gallery
[previous Aprils: 2010, 2009, 2008, 2007, 2006, 2005, 2004, 2003, 2002]