The space station is visible in the night sky this month. Would you like to see it? Sign up for Spaceweather PHONE.
NEWS FLASH: A massive prominence has risen over the sun's southwestern limb: photo. If you have a safely-filtered solar telescope, take a look.
ALIEN LIGHTNING: NASA's Cassini spacecraft is tracking an intense lightning storm on Saturn: click to listen. The crackles you hear are akin to the crackles coming from your car's AM radio when you drive by a thunderstorm on Earth. Cassini has a radio onboard, too, and it has been receiving radio bursts from Saturnian bolts which are, perhaps, a thousand times stronger than lightning on Earth. (continued below)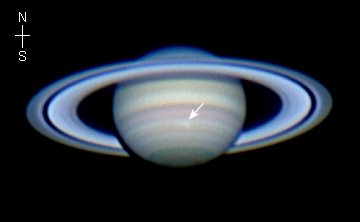 Saturn's lightning storm (arrow) photographed on Feb. 11th by amateur astronomer Ian Sharp of Ham, UK.
Got a telescope? You might be able to see this storm with your own eyes. It looks like a white spot among the clouds of Saturn's southern hemisphere. Saturn hangs high in the eastern sky at sunset, an easy target for backyard telescopes: sky map.
HAPPY BIRTHDAY, GALILEO: On February 15, 1564, Galileo Galilei was born in Pisa, Italy. If he were alive today he would be 442 years old. Galileo is an important person in the history of space weather. Contrary to popular belief, he didn't discover sunspots, but he was one of the first to observe them using a telescope.
In Galileo's day, many people believed sunspots were satellites of the sun. Galileo proved otherwise. By drawing sunspots every day, he discovered that the sun spins and that sunspots are located on (or very near) the sun's surface. Galileo thought sunspots might be clouds.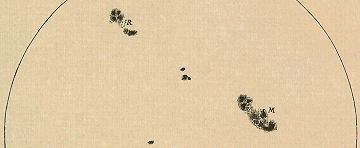 Sunspots drawn by Galileo in June 1612: more.
Now we know what sunspots really are: great islands of magnetism. Sunspots consist of magnetic force-fields poking through the sun's surface. These fields block the flow of heat from below, cooling the sun in their vicinity. Sunspots are therefore cool and dark. How cool? If you stuck a thermometer in a sunspot, it would register "only" a few thousand degrees C.
Galileo wouldn't be impressed if he saw the sun today. There are only two small sunspots, each slightly smaller than Earth, nothing like the Jupiter-sized behemoths he drew in 1612. The reason: 2006 is a year of solar minimum.