LUNAR ECLIPSE: This Saturday, August 16th, people on every continent except North America can see a lunar eclipse. At maximum, around 2110 UT, 81% of the Moon will be inside the red core of Earth's shadow. It should be a good show. Browse the links for more information: visibility map, webcast, gallery, details.
PERSEID UPDATE: The Perseid meteor shower is coming to an end. Activity crested on August 13th with 130 meteors per hour, according to the International Meteor Organization: data. Now Earth is exiting the Perseid debris stream and rates are subsiding to levels near 20 per hour. Most of those 20, however, will be impossible to see due to the glare of the increasingly full Moon. The best thing to do now: browse the gallery.
Hunter Wilson of Lexington, Ohio, wasn't even trying to photograph the Perseids on Aug. 12th when one streaked through his telescopic exposure of the Heart and Soul nebulas: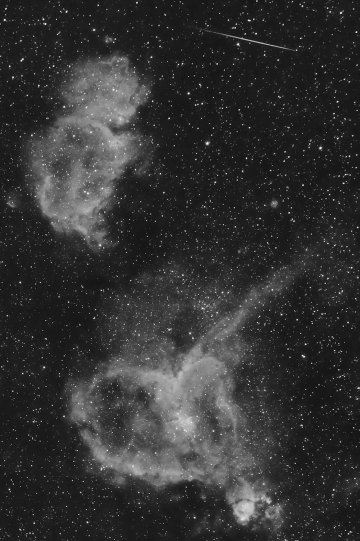 "I was using an H-alpha filter [sensitive to hydrogen gas in the nebulas]," he explains. "This is a very restrictive filter, so the Perseid in question must have been a very bright meteor indeed."
UPDATED: 2008 Perseid Meteor Gallery
[Previous Perseids: 2007, 2006, 2005, 2004, 2002, 2001 ]
SOLAR ACTIVITY: Some forms of solar activity are best seen now, during solar minimum. Click on the image to launch an example: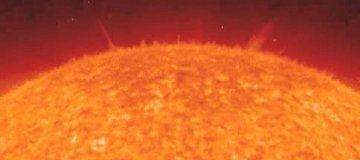 movies: 3 MB Quicktime, 33 MB Quicktime, 10 MB mpeg
You just saw a bunch of spicules, Texas-sized jets of gas shooting away from the sun at speeds of 50,000 mph. At any given moment there are about 100,000 active spicules on the sun. During solar maximum, many spicules are hidden from view by larger and more violent forms of solar activity, but now we see them quite clearly.
A hundred thousand scorching-hot Texas-sized jets is a quiet sun? That's about as quiet as it gets. NASA's STEREO-B spacecraft recorded these spicules jetting away from the solar north pole during a day and a half period spanning Aug. 2-3. More STEREO movies may be found here.
---
August 2008 Aurora Gallery
[Aurora Alerts] [Previous Augusts: '07, 06, 05, 04, 03, 02]