| | | |
| --- | --- | --- |
| Turn your cell phone into a field-tested satellite tracker. Works for Android and iPhone. | | |
PIECES OF VESTA: NASA's Dawn spacecraft is about to enter orbit around Vesta for a year-long study of the giant asteroid. Dawn's cameras are expected to reveal an alien world of great beauty, helping researchers unravel mysteries of how our solar system formed. As close as Dawn will be, however, you can get even closer. Authentic pieces of Vesta are now available in the Space Weather Store.
THUNDER MOON: There's a full Moon tonight. According to folklore, it is the "Thunder Moon," named after the booming electrical storms of summer. Watch out for lightning, and enjoy the Thunder moonlight. Images: #1, #2, #3;
THE SCALE OF THINGS: Feeling small? Warning: The following images could exacerbate the problem. On July 13, amateur astronomer Dave Gradwell of Birr, Ireland, photographed a number of features on the sun and set Earth alongside each for scale: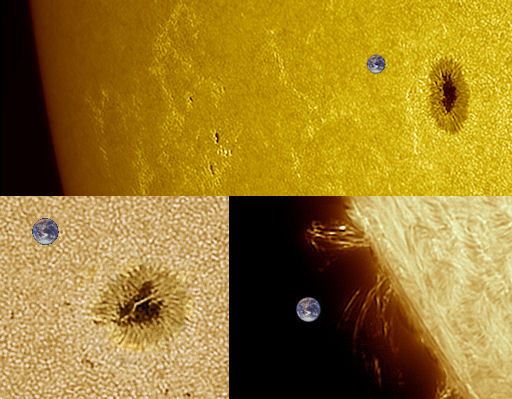 Starting at the top and proceeding clockwise we have new sunspot 1251, a plasma fountain on the sun's southeastern limb, and sunspot 1250 bisected by a light bridge. Everything pictured is bigger than Earth, where the photographer himself is no larger than a single pixel. On the bright side, the outsized scale of things on the sun makes it a fine target for backyard solar telescopes.
more images: from Pavol Rapavy of Observatory Rimavska Sobota, Slovakia; from Jesus Carmona de Argila of Madrid (SPAIN); from Jim Lafferty of Redlands, California;
LAST TRANSIT: Among many things space shuttle Atlantis is doing for the last time, transiting the sun is perhaps the most difficult to observe. Nevertheless, on July 11th Catalin Paduraru managed to catch the orbiter in a split-second crossing of the solar disk over Salcioara, Romania: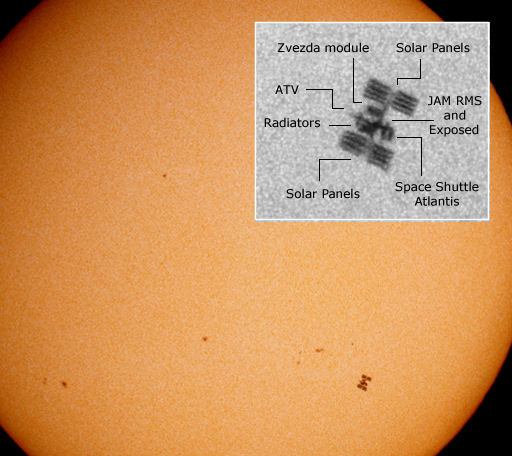 "After my two previous attempts to photograph a transit of the ISS failed, it seems that the third time was a charm," says Paduraru. "This was a very special photo because it captured the last flight of Atlantis currently docked to the space station."
Atlantis won't return to Earth for another week. So, while there won't be any more sun-crossings over Salcioara, Romania, other places might still experience this rare event. Transit predictions may be found at CalSky.com.
more images: from Flavius Gligor of Izgar, Romania; from Stella Soultou of Koropi, Attica, Greece
---
2011 Noctilucent Cloud Gallery
[previous years: 2003, 2004, 2005, 2006, 2007, 2008, 2009]
---
June 2011 Aurora Gallery
[Aurora alerts: text, voice] [previous Junes: 2010, 2008, 2001]