| | | |
| --- | --- | --- |
| Hang the Transit of Venus on your wall! Hubble-quality images from NASA's Solar Dynamics Observatory are now available as metallic posters in the Space Weather Store. | | |
CHANCE OF STORMS: NOAA forecasters estimate a 65% chance of polar geomagnetic storms on March 15th when a CME might deliver a glancing blow to Earth's magnetic field. The CME was launched by a filament of solar magnetism that erupted on March 12th. High-latitude sky watchers should be alert for auroras when the cloud arrives. Aurora alerts: text, voice.
HAPPY PI DAY: March 14th (3.14) is

day and all around the world mathematicians are celebrating this compelling and mysterious constant of Nature. Pi appears in equations describing the orbits of planets, the colors of auroras, the structure of DNA. It's everywhere.
Humans have struggled to calculate

for thousands of years. Divide the circumference of a circle by its diameter; the ratio is

. Sounds simple, but the devil is in the digits. While the value of

is finite (a smidgen more than 3), the decimal number is infinitely long:
3.1415926535897932384626433832795
02884197169399375105820974944592307
81640628620899862803482534211706...more
Supercomputers have succeeded in calculating more than 2700 billion digits and they're still crunching. The weirdest way to compute

: throw needles at a table or frozen hot dogs on the floor. Party time!
COMET PAN-STARRS UPDATE: Comet Pan-STARRS might have brightened even more than expected when it swung past the sun on March 10th. Updated light curves show the comet peaked at 0th magnitude, about 2.5 times brighter than a 1st-magnitude star. Unfortunately, bright twilight surrounds the comet, making it difficult to find. Last night, Chris Cook pointed it out to his son from a sand dune in Cape Cod, Massachusetts,: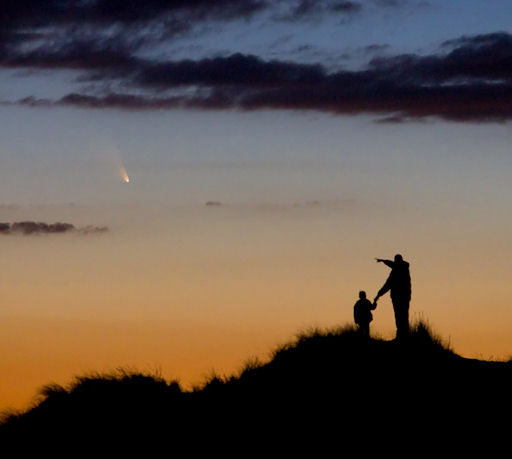 Photo details: 2 sec exposure, Canon 5D w/70-200mm f/2.8L lens, ISO1250
Even staring straight at it, however, father and son had trouble seeing the comet. Cook used a 2-second exposure with his digital camera to improve the view.
The situation will improve in the nights ahead as Comet Pan-STARRS moves away from the sun into darker skies. Soon, it might be possible to walk outside after nightfall, look west, and see the brightening comet with the unaided eye. If you would like to try tonight, look for Comet Pan-STARRS directly underneath the waxing crescent Moon: sky map.
More: NASA video, 3D orbit, ephemeris, light curves.
MAGNETIC ERUPTION ON MARCH 12th: A magnetic filament in the sun's northern hemisphere slowly erupted on March 12th for more than two hours around 1107 UT. Extreme ultraviolet telescopes onboard NASA's Solar Dynamics Observatory recorded the action: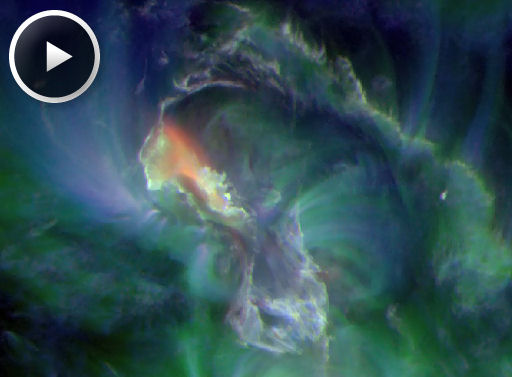 The source of the explosion was active region AR1690 on the sun's central meridian. Although AR1690 is almost directly facing our planet, debris from the blast will mostly miss Earth. A CME produced by the explosion is traveling north of the sun-Earth line. Nevertheless, the southern fringe of the CME might hit Earth's magnetic field on March 15th. NOAA forecasters estimate a 65% chance of polar geomagnetic storms when the cloud arrives. Aurora alerts: text, voice.
Realtime Space Weather Photo Gallery
---
---
Realtime Noctilucent Cloud Photo Gallery
[previous years: 2003, 2004, 2005, 2006, 2007, 2008, 2009, 2011]