DISCOVERY LAUNCH UPDATE: NASA engineers say they understand why space shuttle Discovery sprung a hydrogen leak on March 11th. Replacing a faulty junction in the shuttle's hydrogen vent line should solve the problem, putting Discovery back on track for a March 15th launch from Kennedy Space Center at 7:43 pm EDT. Stay tuned for updates.
GEOMAGNETIC STORM: A solar wind stream hit Earth last light, sparking a magnetic storm around the Arctic Circle. Rune Christianse sends this picture from Nuuk, Greenland: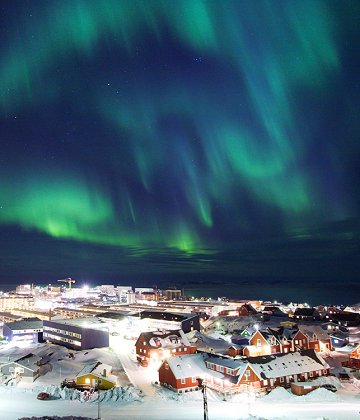 "The Northern Lights were bright and quick-shifting," he says. "I photographed the display using my Canon 5D."
High-latitude sky watchers should be alert for more auroras tonight as the solar wind continues to blow. NOAA forecasters estimate a 30% chance of geomagnetic activity during the next 24 hours.
UPDATED: March 2009 Aurora Gallery
[previous Marches: 2008, 2007, 2006, 2005, 2004, 2003, 2002]
TITAN TRANSIT: Last night, March 12th, Saturn's giant moon Titan cast its shadow on the ringed planet's cloudtops. In the Phillipines, astrophotographer Christopher Go was waiting and took this well-timed shot through his 11-inch Celestron:
"Titan skimmed over Saturn's north pole with its shadow following behind," says Go. The ruddy disk of Titan is located just above the much darker shadow, he points out. "Also, I was also to capture the EZn white spot--a pale storm raging near Saturn's equator." To see it, play the movie.
---