| | | |
| --- | --- | --- |
| SATELLITE FLYBYS APP: Turn your iPhone or iPod into a field-tested satellite tracker! Spaceweather.com presents the Satellite Flybys app. | | |
SUNSET TRIANGLE: When the sun sets on Valentine's Day, grab your binoculars and dash outside. Jupiter, Venus and an unbelievably slender crescent Moon are converging to form a triangle in the glow of sunset. Scan the western horizon for a beautiful view: sky map.
TURMOIL ON THE SUN: Sunspot 1046 continues to put on a good show. Yesterday it unleashed the brightest solar flare in more than two years (an M8-class eruption) and today it is seething with magnetic activity. Rogerio Marcon photographed the turmoil from his backyard observatory in Campinas, Brazil: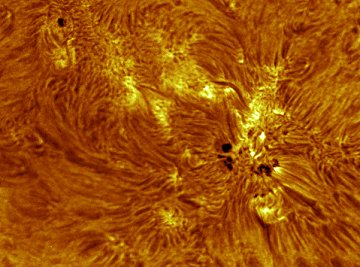 NOAA forecasters estimate a 70% chance of another M-flare from this region during the next 24 hours. The chief effect of impulsive M-flares is to ionize the upper layers of Earth's atmosphere. Waves of ionization can affect the propagation of terrestrial radio signals, suppressing some frequencies (shortwave) while boosting others (VLF). Radio listeners should be alert for disturbances.
more images: from Stefano Sello of Pisa, Italy; from Divyadarshan D. Purohit of Vadodara, Gujarat, India; from Terje Isberg of Biberstein, Switzerland; from Dennis Simmons of Brisbane, QLD, Australia; from Peter Paice of Belfast, Northern Ireland;
AURORA WATCH: High-latitude sky watchers should be alert for auroras on Feb. 14th and 15th. That's when a solar wind stream flowing from a coronal hole on the sun is expected to reach Earth. The scene on Valentine's Night could look like this: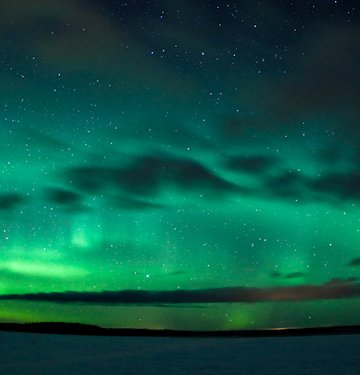 Zoltan Kenwell took the picture on Feb. 11th from the banks of the Athabasca River in Alberta, Canada. "I used a Canon 5D2 set at ISO 1000 for 10 seconds," he says. "The auroras were very active."
NOAA forecasters estimate a 30% to 35% chance of minor geomagnetic storming during the late hours of Feb. 14th and 15th. The activity could descend to northern-tier US states such as Minnesota and Wisconsin. Alaska, Canada and Scandinavia are better bets, however. Browse the gallery for a preview:
February Northern Lights Gallery
[previous Februarys: 2009, 2008, 2007, 2006, 2004, 2003, 2002]