| | | |
| --- | --- | --- |
| Where's Saturn? Is that a UFO--or the ISS? What's the name of that star? Get the answers from mySKY--a fun new astronomy helper from Meade. | | |
AURORA WATCH: Sky watchers around the Arctic Circle should remain alert for auroras. A solar wind stream is buffeting Earth's magnetic field and causing high-latitude geomagnetic storms: gallery.
WHAT'S FOLLOWING THE ISS? Two nights ago the International Space Station (ISS) flew over the Netherlands. The ISS is very bright and many people saw it. What few people noticed was a small spaceship following the space station. Ralf Vandebergh, however, did. He trained his telescope on the pursuing craft and took this picture: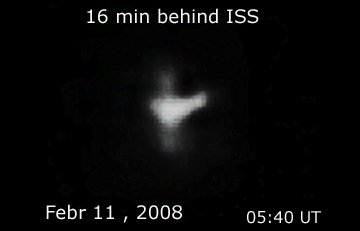 What is it? A garbage truck. "It is a Russian Progress cargo vessel loaded with trash that undocked from the ISS on February 4th," explains Vandebergh. The Progress P27 (M-62) will eventually burn up in Earth's atmosphere; until then it trails the space station at a safe distance. "Catching details of the Progress through my telescope was a hard job, much harder than the ISS. Not only is the Progress much smaller and fainter, but also its speed seemed higher, indicating that it is set in a lower orbit"--the better to burn up in.
more images: from Marco Langbroek of Leiden, the Netherlands
LOWER SUN PILLAR: A gust of wind on a freezing day can hurl stinging crystals of ice into the air and right ... at ... you. Open your eyes! Those painful crystals may be creating a beautiful display. On such a day last week in Quebec, this sun pillar appeared in midair before photographer David Swan: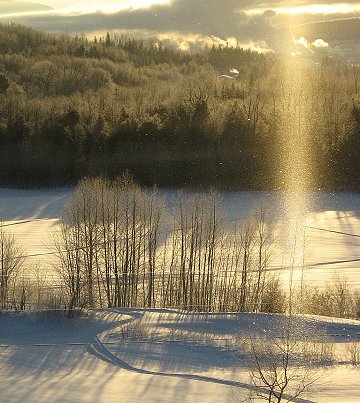 "The temperature was -29C and the air was filled with tiny ice crystals," says Swan. Plate-shaped crystals fluttering nearly parallel to the ground reflected the overhead sun and spread its rays into a luminous column of light. "This pillar came from crystals that were so close, some of the individual motes are visible in the photo!"
Now that didn't hurt so much, did it?
more images: from Mike Conlan skiing down Whistler Mountain, British Columbia, Canada