LUNAR IMPACT: NASA's Lunar Crater Observation and Sensing Satellite (LCROSS) is on a collision course with the Moon. At a briefing yesterday, NASA announced exactly where the impact will take place. Get the full story from Science@NASA.
SPACESHIP OVER LOS ANGELES: Yesterday, space shuttle Discovery landed at Edwards Air Force Base in California. En route, it passed some 75,000 feet above Los Angeles. "Discovery was visible briefly from the Griffith Observatory as it passed through a 15o wide hole in the clouds," reports Anthony Cook, who used a handheld Canon 40D to photograph the flyby: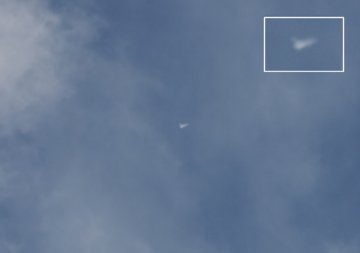 "The sonic boom rumbled across the Los Angeles Basin about a minute after this was taken," he says.
Discovery's landing at Edwards ended a two week, 5.7 million mile mission to the International Space Station--but the journey is not over. The shuttle will now be hoisted atop a Shuttle Carrier Aircraft for a massive cross-country piggyback ride to the Kennedy Space Center in Florida. Daytime sky watchers in Arizona, New Mexico, Texas, Louisiana and Florida will be able to see the flight if they know when to look. Stay tuned for information about sighting opportunities.
STAR TRAILS IN MOTION: It's an astrophotographer's favorite trick: Point your camera at the stars, open the shutter, and let the world turn. The rotation of the planet beneath your feet causes the stars overhead to curve in graceful arcs known as star trails. Here are some examples.
Renowned astrophotographer Miguel Claro has added a new wrinkle to the old favorite. Click on the image to see star trails in motion:
"I made the movie on September 1st with my camera (Canon 400D) set up in a farm field in Vila Boim, Portugal, about 200km from Lisbon," says Claro. "It consists of sixty-eight 30-second exposures. Later I combined the individual images using Windows Movie Maker."
Each frame in the movie is the sum of all the previous frames. Because of this, "as we advance in the film, the signal-to-noise ratio increases. It's an interesting visual sensation." Watch for it as you play the movie again.
Star trails in motion: It's the astrophotographer's new favorite trick.
---
August 2009 Aurora Gallery
[previous Augusts: 2008, 2007, 2006, 2005, 2004, 2003, 2002, 2001]
---