TIGER STRIPES: Yesterday, NASA's Cassini spacecraft made a close flyby of Enceladus and took the best-ever photos of the Saturnian moon's tiger stripes. NASA reports that Cassini has begun transmitting the data back to Earth where researchers are waiting with great anticipation. Stay tuned.
PERSEID UPDATE: The Perseid meteor shower is still active. International Meteor Organization observers are reporting 60+ meteors per hour (update) from sites with clear, dark skies. Emphasis on dark. Many Perseids are faint and cannot be seen from cities.
"This morning, Aug. 12th, we had nice, solid activity here in Europe," says Nejc Ucman, who sends this picture from Ravni Log, Slovenia: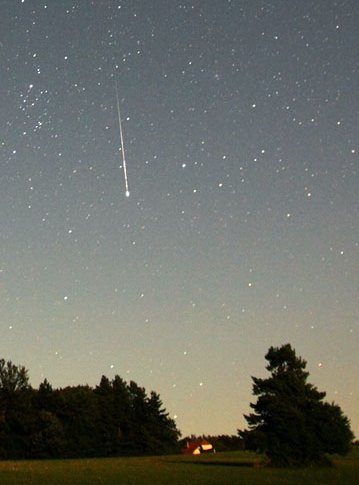 If it's dark where you live, continue to monitor the sky for Perseids. The shower is not over yet.
2008 Perseid Meteor Gallery
[Previous Perseids: 2007, 2006, 2005, 2004, 2002, 2001 ]
MAMMATUS CLOUDS: It is a curious fact of Nature that the underbelly of an exhausted thunderstorm resembles the underbelly of a cow. These are called mammatus clouds: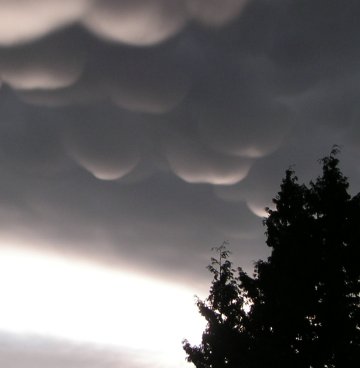 Andy Jarosz took the picture just hours ago in rain-soaked St Albans, UK. It was once thought that this type of cloud signaled the approach of bad weather, but new research shows the opposite is true. Mammatus clouds are most often seen when storms are breaking up. Indeed, "these appeared at the end of a very stormy day," he says.
What exactly causes mammatus clouds? It's a big undulating mystery. For details, see "The Mysteries of Mammatus Clouds," D. M. Schultz et al, Journal of the Atmospheric Sciences, Volume 63, Issue 10 (October 2006).
---
August 2008 Aurora Gallery
[Aurora Alerts] [Previous Augusts: '07, 06, 05, 04, 03, 02]