LEONID METEOR ALERT: The 2009 Leonid meteor shower peaks on Nov. 17th with a sprinkling of meteors over North America and a possible outburst over Asia. Science@NASA has the full story.
UPSIDE-DOWN RAINBOWS: Lately, sky watchers have been reporting a growing number of "upside-down rainbows." Here's one that appeared yesterday over Lansford, Pennsylvania: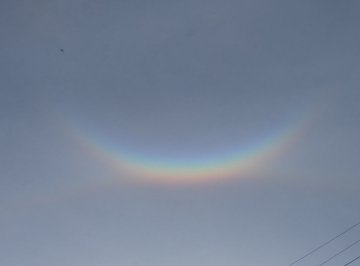 "This was just amazing and beyond exciting," says photographer Brenda Pun. "I grabbed my camera (a Nikon D40x) and quickly took some shots before it could disappear."
Despite its rainbow-like appearance, this is not a rainbow. It's a circumzenithal arc. Atmospheric optics expert Les Cowley calls it "the most beautiful of all ice haloes." The circumzenithal arc, or "CZA" for short, is formed by sunlight shining through plate-shaped ice crystals in high clouds. "The CZA is often described as an 'upside down rainbow' by first timers. Someone also charmingly likened it to 'a grin in the sky.'"
The same ice crystals that make circumzenithal arcs also make sundogs. Indeed, Brenda Pun saw a pair of bright sundogs flanking the sun while she was photographing her CZA. 'Dogs and grins naturally go together.
Circumzenithal arcs typically appear in late autumn and early winter when the air is icy and the sun is low. "The CZA forms only when sun is less than 32.3° high," notes Cowley, "and it is at its best when the sun is about 22° high." As winter solstice approaches, "upside down rainbows" will become increasingly common. Look for them!
more images: from Sawyer Rosenstein of Ramsey, New Jersey; from Bob G. Hughes of Somerville, Alabama; from Jeremy of Mt. Arlington, New Jersey; from Paul Tahan of Wayne, New Jersey; from Peg Zenko of Green Bay, Wisconsin; from the frontyard of Glenn Machesney;
PHOTOGRAPHIC AURORAS: On Sunday, Nov. 8th, a minor solar wind stream buffeted Earth's magnetic field, spawning a subtle display of Northern Lights. "To the naked eye, the auroras were barely visible," says Helge Mortensen of Kvaløya, Norway. "But a 30-second exposure with my digital camera revealed a lovely green band cutting across the sky."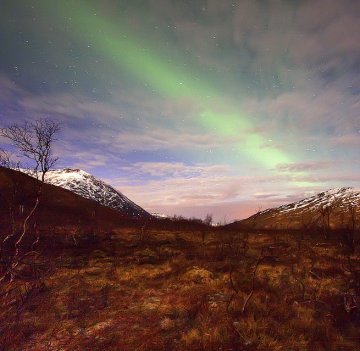 This kind of aurora borealis--visible to the camera but not to the eye--is called a "photographic aurora." The phenomenon is more common and widespread than you might think. In July, for instance, amateur astronomer Howard Edin recorded photographic auroras at a star party in Valentine, Nebraska: photo. That's pretty far south for "Northern Lights." The key, says Edin, was exposing the scene for a full 30 seconds--the same exposure time Mortensen used in Norway two nights ago.
Astrophotographers should be alert for geomagnetic activity. The next time the solar wind gusts, a great photo could be just half-a-minute away.
October Northern Lights Gallery
[previous Octobers: 2008, 2007, 2006, 2004, 2003, 2002, 2001]
---